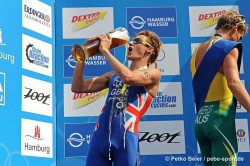 The season is drawing to an end but the results still keep coming in. It was the Grand Final of the WCS champs in Beijing and Will Clarke, Jodie Stimpson and kathy Tremblay made up the elite team for TDC. All of these athletes raced with determination whether it was their day or not it didnt matter. 
Will Clarke was first up showing that a leg injury after London was not going to hold him back, Clarkey had a great swim coming out close to the leaders, onto the bike he was very active all day sitting close to the front and getting the first bike prime under his belt. Once onto the run it was obvious that Clarke was not in the form from Hamburg where he finished in his first podium and 2nd place in many years, but he still ran strong to finish 15th overall on the day and 9th in the World ranking for 2011.
The women were up next and it was Jodie Stimpson just missing the first pack after running past her bike in transition which then put her in the chasing pack and left her feeling frustrated for the rest of the race. Kathy Tremblay swam well and was also in that 2nd pack and were left chasing the strong pack of 15 women up front. However 25sec turned into nearly 2 minutes before the end of the bike and the podium was going to come from that front pack. Great British athlete Helen Jenkins went on to win her second successive World Title finishing 2nd on the day to NZ athlete Andrea Hewitt. Kathy Tremblay and Jodie Stimpson finished the day off with 31st and 34th respectively.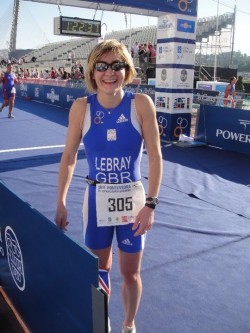 TDC had a big age group turn out too with World Champions from 2010 Gaelle Lebray ready to defend her title. Gaelle prepared well but had a few niggly injuries in the lead up and finished with a Silver medal in the 35-39 sprint distance event to add to her Gold from last year. Trish Gamlin was certainly in the shape of her life coming into this event and finished a fantastic 7th place in her 55-59 AG over the Olympic distance. Ian Gilham had also made some huge improvements this year and came into the race very determined to do as well as he could coming away with a 19th place in his age group over the sprint distance. Dan Falconar rounded off our successful TDC age group presence with another solid result for him finishing in 45th place in his age group over the Olympic Distance. Well done team we are very proud of the year you have had, looking forward to celebrating with everyone at the end of season dinner and party!