Team Dillon athletes were racing all over this weekend and again posting some very solid results early into the season.
First up Cris Swinhoe aged 56 years old placed 2nd in the V50 age category and was 41st out of 758 in the Marathon of the North in Northumberland at the weekend with a fantastic time of 3 hours and 10mins. Cris pictured below continues to impress considering he ran a time of  3.07 for the marathon at the age of 27 years of age. It just shows you that with the right training, preserving your body and mindset you can really do anything. We are proud of you as always and really excited to see what the rest of the season has in store for you.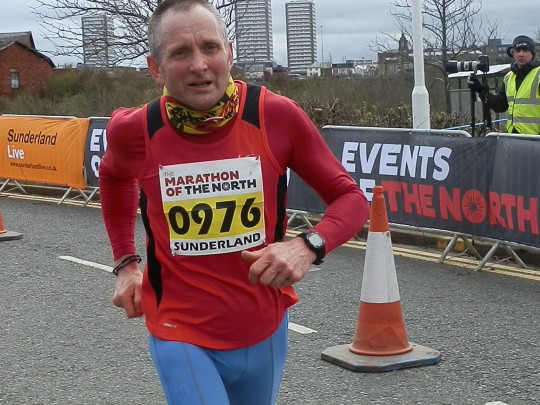 Stuart Hayes was out in Florida at the St Anthony's Triathlon in his first non-drafting race of the season. Stuart finished a very solid 8th place in a World Class field and probably the best field that has assembled in this race, the depth was much bigger than usual.  You can find the results here http://edge.raceresults360.com/satriathlon13/#/results:&AthleteSearch=(Enter%20Name,%20Bib%20No.,%20or%20City)&Division=M%20PRO:1367155584096
Stuart had his usual strong swim and bike combination coming off the bike close to the front with only Cameron Dye doing his class act off the front. Then onto the run Stuart ran out hard finding himself in 4th position but around the 6km mark he started to feel like he was falling apart due to lack of running fitness but still managed to hang onto 8th place and a put another solid run under his belt. In fact Stu ran nearly 3mins quicker than he did a few months ago over 10km  in the Mooloolaba World Cup shows the progression being made. So lots more to come and excited about the season ahead.