Team Dillon athletes have been racing these past few weeks with results coming in all over the UK.
First up was Andy Niven who has been posting some fantastic results and personal best times recently. Andy raced the Ashington Triathlon where the race was more like a Time Trial than anything else. However Andy was off in the last wave and was determined to dig deep and really go for it as his training had been going really well. He found himself in a good position after the swim and onto the bike felt strong, by the time he got off the bike was nearly 1 minute ahead of his other competitors. Andy knew he still had to keep the pressure on during the run just to make sure he stayed in front, that he did coming home with his first win and 4sec ahead of his nearest competitor in the wave ahead. Andy clocked a total time of 58min 07 sec and was 1st senior male across the line. Andy pictured below during the bike leg. Andy's TDC coach Jill Parker is so pleased with this result, and we know there is lots more to come. TDC athlete Graham Tye also had an awesome race with 3rd Veteran in this race in a super time of 1.05.00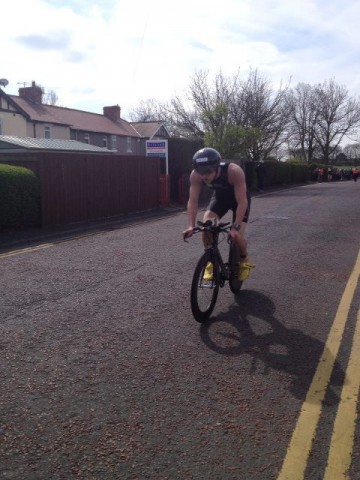 Steve Anyon was also in great form recently posting a fantastic result 3rd Place in his AG at the London Aquathon and qualifying for London World Champs later on in the year.
Marthe Ogg de Ferrer was having her first hit out of the season at a local sprint when she swam a Personal Best time for the opening leg of the race. She then went on to have a solid race and was pleased with her progress so far thanking her TDC Coach Perry Agass for helping her to this point.
As the races approach the excitement builds in the Team Dillon camp, we are looking forward to seeing everyone's hard work in action this summer! Good Luck TEAM 🙂