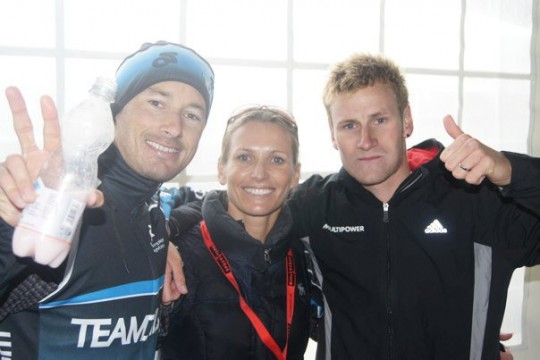 Team Dillon athletes Will Clarke and Stuart Hayes were all smiles after proving that their hard work is starting to pay off. They showed some fantastic form at the Kitzbuhel WCS event today.
The race was led from start to finish from young British sensation Alastair Brownlee, but there were attempts of breakaways on the bike. It was TDC Stu Hayes showing how it is done at the front of the race trying to get away, and the break finally went on the last lap with Hayes, Brownlee and Colucci gaining a 35 sec advantage on the rest of the field.
On to the run and Brownlee took off and dominated, running away from the rest of the field. Hayes hung in well for 5km and was stil in the running for the medals. However it was Will Clarke who started to move up to challenge for the medals. Brownlee streaked the field winning comfortably from the Russian Brukhankov and Riederer rounding out the podium.
Will Clarke had his best performance in years finishing in 4th and Stu Hayes held on for 13th place. Well done guys! Looks like all the hard work is starting to pay off – it's about having the never give up attitude!
The girls had solid performances on the Sunday with Jodie Stimpson finishing 19th after making the lead pack on the swim and bridging a gap to the early leaders on the bike. Kathy Tremblay finished 32nd and still moving up on each performance.