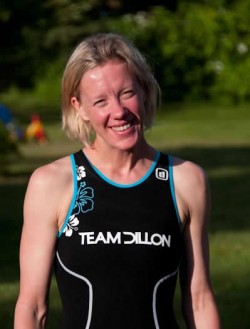 Team Dillon athletes were on fire this weekend with some fantastic results coming in from all over.
Firstly, Catherine Liversidge (pictured left) was 3rd in her AG in Boise 70.3 after battling injury over the winter months. Catherine showed just how determined she is with this result and the aim for the event was to try to qualify for the World Championships 70.3 which will be held in Vegas at the end of the year. Cath's result secured her a spot and she came away with a big smile on her face.
Another event and another TDC athlete Dan Falconar has also confirmed selection for the World Championships in Bejiing later this year after some fantastic results at the qualifying races recently. Dan was so chuffed with his selection, he said he wouldnt miss this opportuntity as he may not ever get another chance. Well done Cath and Dan.
Peter Curry and Mark Butler raced at Windsor triathlon and both had very great races. Mark finished in 2.24.13 and Pete in 2.25.42. Well done guys, fantastic performances!
Chris Hayward raced at his first Elite National Championships today at Windsor and although  Chris came out of the swim behind the man pack he worked hard to keep the gap where it was. Chris finished strong and had a solid run to finish in 15th place. Chris now looks to the Canary wharf race in July. Well done Chris.
Stuart Hayes was in Klagenfurt Austria this weekend looking for more qualifying points for the 5150 series event to race in Des Monies in September. Stuart had a solid race and lead out of the swim, was 2nd off the bike to a young Frenchman Bertrand Billard. Bertrand rode well and put 3mins into the field on the bike. Stu had to try to make up the time on the run but only managed to pull back half of that and finished in 2nd place. Stuart earned some good points today and moving him closer to that start line in Des Monies. He also won the Swim and Run primes today! Stuart's next race is Kitzbuhuel WCS race next weekend where he won the GOLD last year.
Kirsty Anderson had another fantastic weekend finishing 3rd women overall at the knockburn triathlon today. Kirsty is in the best shape of her life at the moment and recently won her age group in the British Sprint champs, she is also getting ready to race the European champs in two weeks time where she has already a bronze medal to her name. So when Kirsty finished 3rd women today at Knockburn on a challenging course in 2.24 she could only come away with excitemtent for what is to come over the next few weeks. We wish Kirsty all the best for the up and coming European triathlon Championships. Well done Kirsty.