Another weekend of racing has passed by and Team Dillon athletes were out there again aiming for World qualification both domestically & around Europe.
First up we had some impressive performances at the St Polten Austria 70.3 ,with Kyle Follet & Peter Longworth aiming for World qualification. Unfortunately due to bad weather conditions the swim was cancelled and this left the athletes facing a duathlon (run,bike,run). Kyle had a solid day coming home strong to finish in 5th place in his AG just missing out by one spot on qualification. However Kyle managed to run a personal best time for the run 1.16 and also placed 25th male overall finishing time 3.49.19!!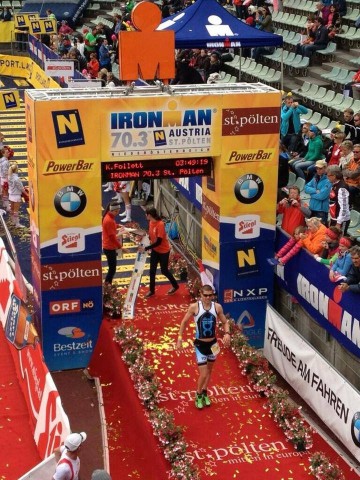 Although Kyle was slightly disappointed with just missing out on qualification for vegas, he was also pleased with a very solid first up performance showing off his finishers medal below. His coach Perry Agass has been working really hard with him over the winter and is confident this is just the beginning of a great season ahead! Watch this space 🙂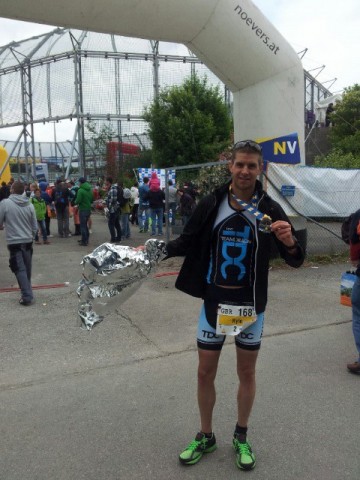 Another one of our athletes was also out in Austria was Peter Longworth, Pete has had a running injury that put him out of action for a while. However Pete wouldn't have opted for the change from triathlon to Duathlon with the lack of running he still came managed to come through with a very good result finishing in 5.37! Well done Pete (Pictured below)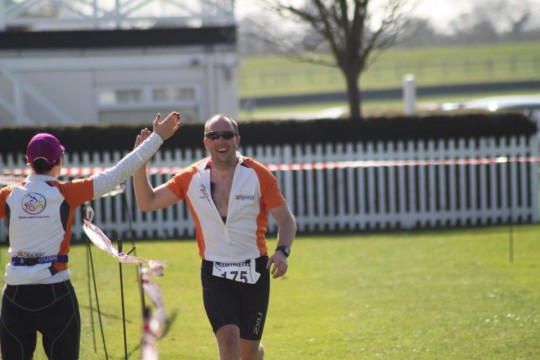 Then we go to the domestic races where Dan Wells raced himself to a personal best time at the Grendon Sprint in a time of 1.12!
Also Steve Anyon was 2nd in his AG & 21st overall at the Eton 1,500m swim event in a time of  23.13! Well done to both guys here.
Stuart Hayes was out having a hit out at the Bupa London 10km, which also doubled as the National Road championships. Stu had a solid run and is starting to get some good run form back clocking a 30.58. It was also great for him to catch up with legend Mo Farah before the start and warmed up together before the race, pictured below.