Micheal Kontaratos exceeded all his expectations when he raced himself to a time of 11.45 recently in Ironman Austria! He speaks about his race experience!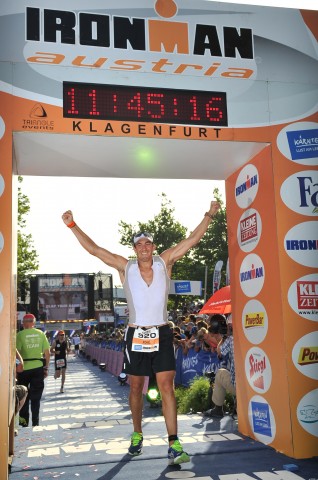 Here is a summary of how my race went – a tremendous experience! Felt really well throughout (with the exception of when I started cramping) and surprisingly had fully recovered by the 4th day following the race. It just shows how good my coach Jill is and how she was able to get me at my best condition on the day. I was also shocked on how close her predictions where. I finished thinking I had surpassed my wildest expectations and that was 5 minutes off Jill's prediction……damn!
Pre -Race
The temperature in Austria had been rising for the whole week leading to the race and the same applied to the water temperature. The day we arrived the temperature was 33C and predictions for race day where that it would be 33C-35C! Bearing in mind that, courtesy of the beautiful English weather, I had never trained in temperatures above 21C I did get a bit nervous. However, I took some comfort from my Greek genes and all my years of practicing in the Greek beaches. On the race briefing we were also informed that due to the water temperature being higher than 24.5C (apparently it was measured at 24.8C and rising) we would be swimming with no wetsuits – Bad news! – the benefit of a wetsuit is that a) it provides buoyancy which is greatly needed when swimming in a lake and b) you glide better in the water on a wetsuit versus wearing your traditional swimming trunks. Again, no panic! as a) swimming was one of my good disciplines and b) unlike my Greek genes, I do not seem to have too much body hair in every single part of my body including my chest, stomach, back, arms, etc  so we should be fine!
Race Day
Woke up at 4:30am and tried and have breakfast; not very hungry but tried to have something to eat regardless as I would definitely be burning it in a couple of hours. A quick visit to the transition area to check that everything is in good order (nutrition, waterbottles, sunblock, tires pumped with air, etc) and made my way to the starting line for a warm up. Starting to realise how big this race is. You have 2700 people preparing their gear, plus the relevant volunteers ,supporters – its 6:00am and the place is buzzing with music and it's already warm – boy it's going to be a long day.
Swim (3.8km)
Decided to start at the right side of the pack since that is where the "weaker" swimmers would line up, while the "stronger" swimmers would line up on the left hand side. My plan was to be one of the first ones on the water and hopefully build up some clear water and not get involved into "washing machine action". The start itself was crazy with 2700 athletes jumping into the water simultaneously! (picture attached) but surprisingly the start went really well. Found some open water and stuck behind the feet of a fellow athlete with similar pace. Where it got messy was at the first buoy (~1250m) where everyone converges to turn. I almost got kicked in the face a couple of times but luckily managed to navigate around the bodies and find some clear water. Stuck to my race plan and got out of the water after 1:12 feeling quite well.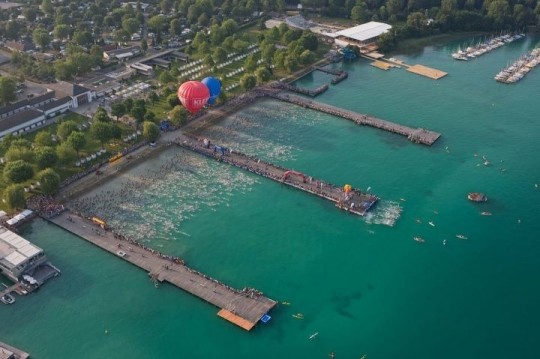 Bike (180km)
Time for the race to begin – 2 loops of 90km each. With the temperatures soaring at 35-39C I knew this would not be a pleasant ride. So I started very conservatively and also used the first couple of km to try and eat a sandwich. Was not very hungry but tried to eat as much of it as possible as it would help me later on. The course was quite fast and while I am cruising at a decent speed I am still being overtaken by everyone and his dog, or at least this is how it feels like. Regardless, I stick to my plan and my pace as this is not the time to play macho man (and lose). There are two BIG hills on the course and they are tough but I get round them felling quite well – the support is amazing; you have people on the side of the hill cheering you on (think Tour de France) and loud music which is definitely helping. Things however start to get more difficult at the second loop. The heat is unbearable and by now I have been cycling for 4-5 hours under a lot of heat. I am trying to keep my fluid intake consistent but find myself having drunk everything even before the aid station (every 20km) on a number of occasions. People are heating up and starting to cramp. The first BIG hill is tough but goes well, the second one is a KILLER…….once through it, I think that I have made it when trouble kicks in and I start cramping at my left thigh! I shift my position on the bike and my right thigh starts cramping instead. I need to get off the bike before it gets worse – so I start walking for a while to try and get my legs back into shape. The problem is that I do not have salt tablets which is what you require in situations like this…..back on the bike, a couple of spins and the cramps kick in again only this time it's worse. I decide to try and stretch my legs a bit and suddenly both my legs seize up in pain; THIS IS BAD!! I manage to start walking again but not sure what I can do – worst case scenario, I will roll the last 20km back to transition; and that is when I get a lifeline! Number 653 (will send him a thank you card) has some extra salt tablets and gives them to me. I eat two of them and start gulping water – back on the bike and taking it nice and easy…..still need to get off the bike once more with cramps but it seems that they are easing off. After 20 minutes I make it to the transition but at least it feels like the cramps may be gone. This is great news! I can make it…….only a marathon to go (ouch)
Run (42km)
Have now learned my lesson and make hydration my first priority. On each aid station (2km) I have a salt tablet, coke, water and isotonic drink (yes all of the above) – Note: I did not used the bathroom once during the entire run! – Remarkably I am feeling reasonably well so try and keep my steady pace and not think too much about how long I need to keep running for. Support from the crowds, my family and Irene help me through the process. The heat is still horrible only this time you have people with hoses/buckets/waterbotttles/sponges helping you cool down. Last 10km feels like eternity but I just keep going….and soon, you can start to hear the music from the finish line and the words you have been dreaming for a whole year "Michael from Greece, you are an Ironman!"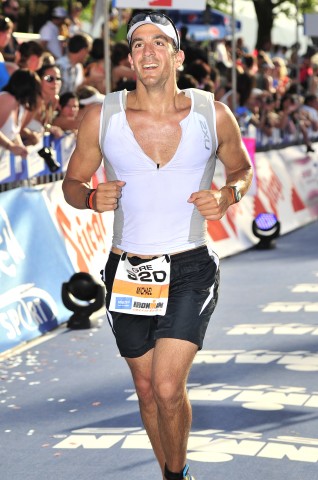 You can see my splits below – you can probably distinguish the 2 hills and the moment on the bike where things turned nasty! You can also see that in my run I managed to pass ~500 people – an indication of how many people "burned out"!