Jimmy Seear lead from the start until the 5km mark on the run to be overtaken by one of his TDC team mates Clark Ellice on the run to finish a fantastic 2nd place at the Liverpool 5150 last weekend. Jimmy tells us about his race experience.
It has been a hectic few days since I raced in the Liverpool 5150 race on Sunday. It was my first time ever visiting Liverpool and the weather conditions from the moment we arrived were challenging, four seasons in one day with constant howling wind with gusts up to 30mph was going to make for an interesting day! My parents came to Liverpool to watch the race before staying with my sister and me for a few days and seeing in my birthday. It was great to see my Mum and Dad and I was definitely excited to race in front of them. I was actually quite excited to race; Liverpool was also doubling as the European Championships with a tough field lined up as well some tough conditions to deal with it was going to be on from the start! Race morning arrived with a cool 14degree day with patchy rain and some very strong wind again; needless to say it made for a nervous transition area.
I knew I was swimming strong so my plan for the day was to get out and swim well and try and set my day up well. There were a lot of strong cyclists and runners in the field including Chris 'Macca' McCormack, Ruedi Wild and Clark Elice. I started next to Macca and I wanted to go hard from the start. Unfortunately I was swamped on the startline with people wanting to swim on my shoulder and feet which meant I only rounded the first turning bouy in about tenth position, not really what I had planned! I had Macca on my left shoulder and someone else on my right and I was getting squeezed from all sides. I knew I had to get out of my position to move up the field, so I got a bit more aggressive and maneuvered to the side of the group so I could swim around everyone. Richard Stannard who is better known as "The Super Fish" was leading the swim and starting to string the pack out.  I was sitting in 6th place when I could see the three guys in front of me starting to fall off the pace of the front two. Time to get going again I decided so I pulled out of the pack and swam around the outside of them and moved up to second position on Richard's feet. By now we were about half way through the swim so I used Richards draft to recover a bit and lower my heart rate and get comfortable. I stayed on Richard's feet the rest of the way to the swim exit and I was quite happy as we had opened up a slight gap on the athletes behind us. Although the water was freezing my new Speedo wetsuit kept me nice and warm so I was able to exit the swim quite fresh and quickly make the long run through transition to pick up my Cervelo.
I was the first athlete into transition. I had a good change over and was first onto the bike. I put my feet straight into my bike shoes and took off on my Cervelo. I was a little nervous to see how my Cervelo would handle the strong winds with my Shimano Disc wheel, the winds were going to be difficult to handle as it wasn't a constant wind but rather 30mph gusts through city buildings and around corners! Definitely not a course to let your concentration slip at all. The bike was a four lap out and back course through the centre of Liverpool. I rode out quickly and very quickly got battered by the crosswinds, I decided to let the winds push me around a bit rather than fight them too hard and that actually made handling the winds a bit easier. I wanted to push the first lap of the bike to try and get the mental advantage over the athletes behind me, I knew once I took the first U-turn I would get a good idea of where everyone else was behind me.
My training partner Clark Ellice from New Zealand was next on the road with a small gap over a group of 5 athletes including Macca and Ruedi Wild, a Swiss Olympian and winner of Klagenfurt a few weeks ago. I was concerned to see these guys riding so close to each other; hopefully the draft marshals would be circling soon! If there was a video of me riding the bike course it would be quite entertaining, with the wind blowing like it was it definitely looked like I was drunk and had lost my ability to ride in a straight line, it was actually great fun riding in those tough conditions. I was feeling quite good and riding well, I was extending my lead over everyone each lap. Clark Ellice was not loosing much time and I knew that this would be a fight until the end with him! I was first into second transition and headed out onto the 2 lap run course with Clark coming in 20seconds behind me.
I held onto my lead for the first 2.5km of the run before Clark joined me. I picked my pace up and followed him back to the turn around for half way. It was very windy again and made the run quite interesting, at times you barely felt like you were moving and then you felt like you couldn't keep up with yourself. I was starting to struggle with the pace Clark was setting at the end of the first lap. He put in a surge over a little bridge and opened up a small gap. I dropped off but quickly tried to re-gather myself for the next lap, I knew Ruedi was chasing hard to close down the 1.15min gap I had over him off the bike. I had conceded 20 seconds to Clark on the run out to the final turn around, it gave me an opportunity to see where he was as well as see where Ruedi was behind me. I knew if I kept it together and just kept putting one foot in front of another I would be able to hold onto second place. The crowd was amazing and hearing my parents in the crowd really helped me push a bit harder. I was very happy to cross the line in second place with my first podium in the 5150 series! I am starting to gain some confidence with the non-drafting side of racing and I am really excited about returning to the USA and doing some more races.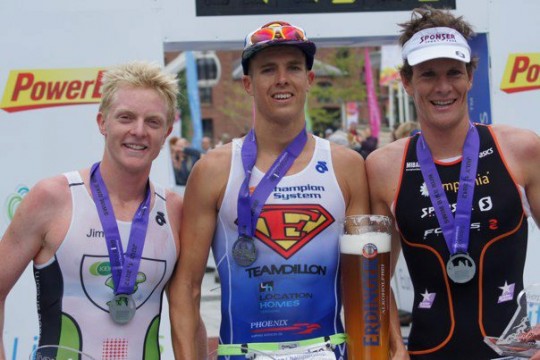 I have now qualified for the grand final in Des Moins which is the largest prize purse in Triathlon, $150000 for the win plus lap bonuses makes it a very sought after race to qualify for! I am excited about earning my start in the race as well as my other races coming up! Thank you to everyone for their support, it definitely makes racing so much better!
Here is a video from the race: www.youtube.com/watch?v=hhq_1DKyWic&feature=em-share_video_user