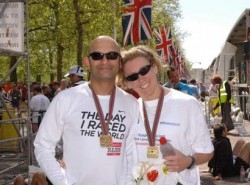 Tay Abhyankar had an unfortunate accident last year, falling off her bike during a race and hitting her head.
Tay suffered swelling and had to endure some serious physio treatment and rest to get better. With time, Tay has managed to come back to training and being the character she is with her determination, she is now back racing.
Tay recently finished 2nd place in her age group at the Donner Lake Sprint triathlon, which is one of the USA's oldest triathlons after 30 years of running this event, which starts at 6,000ft at altitude! Tay clocked 1.02 for the event!
Wow, what a comeback for Tay and such a confidence booster after such a tough winter after her accident. It just proves if you put your mind to something, you can do anything! Well done Tay fantastic effort!