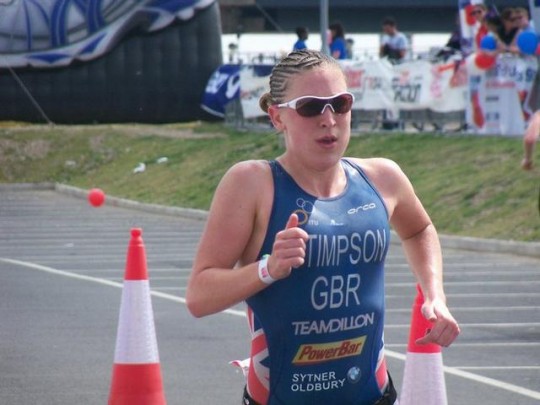 What a fantastic weekend for Team Dillon with the team producing some amazing results from winning at the Elite level all the way through to Age group wins and personal best times.
Jodie Stimpson finally took her first London Triathlon win yesterday with an outstandng performance, winning comfortably from Liz Blatchford and Lois Rosindale. Jodie was third out of the swim but quickly bridged the gap up to the leaders. From there she worked well with Blatchford and Thorington to gain a 1min 50ec advantage over the chasers. Once onto the run Stimpson pulled away and was running well at the front, easing up towards the end of the run to win in a time of 1.56.48 from Blatchford 1.58.13 and Rosindale 2.00.01. Jodie also won the British Super Series for the third year in a row. Stimpson now looks to race in Hyde Park in just 6 days time in hope to secure an Olympic berth in 2012!
Stu Hayes finished a solid 4th place in the men's race and is looking forward to next weekend in Hyde Park also.
It does not stop there though! We had a big turnout over the weekend with some outstanding performances frm TDC.
Gaelle Lebray on her comeback from injury showed that she is coming into some great form, winning the Sprint distance triathlon outright in a time of 1.18.22. Gaelle is getting ready to defend her World title in Beijing later on this season.
Kirsty Anderson was 2nd in the sub 2.30 wave with a time of 2.15.33 which is a massive improvement from last year and almost a 15min personal best time. Kirsty has already won the silver medal at the European champs this season and has come on leaps and bounds.
Sean Johnstone smashed his personal best time finishing way above his expectatations with a 2.17. Sean's intention was to break 2.20 – well done Sean.
Victoria Gill smashed her personal best by a whopping 17mins from last year with a time of 2.14. TDC still waiting on some results to come through and will update when we have them. Well done team! Smashing it!
Team Dillon also won the Sprint relays outright – Coach Dillo was roped into doing the run but really enjoyed it. The team consisted of Bila Rodrigues who swam 12.28, Pete Curry who biked 34.16 and Dillo who ran an 18.21 to give the team a time of 1.09.47.
At the Ironman UK, Ian Hunt was going after a personal best time and did just that when he clocked an outstanding time of 12.32.21. Ian had to stop during the race which cost him some valuble time, but still came away with a big smile on his face. Well done, Ian, fantastic result.
On the other side of the World, Tay Abhyankar was racing in her first long distance race since her accident last year when she hit her head and had to take a step back from training and racing. Tay has come back so strong this year and showed true grit and determination in the Barbs half held in California USA. Tay clocked a personal best time of 6 hours 16mins. Fantastic result for Tay. Congratulations!