TDC athlete Pete Stock had the race of his life at the European Triathlon championships at the weekend winning the Bronze Medal.  Pete shares his report with us and tells us in his own words about his race.
This day had taken so long to arrive; a winters training with cold, early morning starts and pre-work runs along a frozen canal towpath seemed a long way away. A friend had texted a good luck message, pointing out that he was about to do the "Kinder Downfall" fell race in cold, wet and windy conditions. I was about to do the race I had been planning for nearly two years: the ETU European Championships in Eilat.
My preparations had initially been strictly DIY. My training plan had consisted mostly of hard efforts without much finesse. If I finished a training session in a crumpled heap then it was: "job well done." a few months ago I decided that I had reached a plateau. Hard work was no longer paying me back, so I decided to get a coach. I knew about Team Dillon from various reports in the Tri press, and I thought they looked the best, so I didn't look any further. I chose Perry Agass from those coaches who were available at the time, based on his varied approach to training, and his association with Dean Macey. I had long admired Macey's approach, so again, it was a no-brainer.
My training was transformed, with more sessions every week but all shorter than I had been doing, and much more refined. I had to learn the word "EASY". I thought it was strange at first, but then I had to redefine "HARD". Boy, did I need "easy" after those sessions! My results improved. Perry transformed my training, transformed me, and then prepared me for these Championships like never before. I was injury-free the whole time, and ready. Very, very ready. And now here I was, poised on the swim start line. Bang! I was first in the water. I'm not a good swimmer: Perry kindly describes my swimming as "work in progress", and despite my best efforts I gave my main rival over 5 minutes by the time I left the water.
Onto the bike after a good transition and onto a long, straight, slightly uphill road. Against the wind all the way out, hunkered down and battling. Then a blast back at high speed. No-one came past me, and I took a number of people, gaining 2 minutes on last years winner in my category, Pete Winfield.
I did the best bike to run transition I'd ever done and then out on the run with around 2.5 minutes to make up. It seemed the wrong thing to do at an international event, but I was chasing down every Brit I could see because it was only them I knew, and only their previous times I could target. There were many shouts of encouragement, and also please to "work together!" sorry GB, but I came for me, and I came for a medal. I finally saw my quarry as I got to the last of 4 laps, and I started to plan the overtake. I needed to make it stick, and I went past trying to look like I had plenty left in the tank if he wanted to make a fight of it.
There was some confusion on my part, and I thought I'd come fourth. Top Brit maybe, but missing out on a medal was too much. I was gutted, and I hate to admit it but rang Perry before I rang my wife. Perry was philosophical and encouraging but I was pretty distraught. It was only at the medal ceremony that I knew I had got third. I have to be pleased with that, and I am. But – I think I can do more. I've come a long way with Perry over just 5 months, and I think I can improve significantly with a 12 month plan. I need to re-evaluate my targets and work with Perry on achieving the next step.
So far, so good!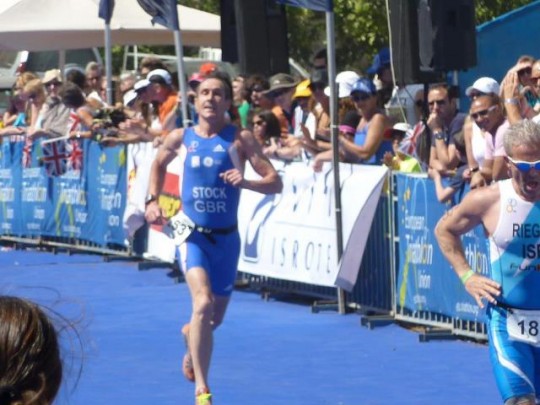 On 20th April I will represent Great Britain at the Triathlon Championships in Eilat, Israel. This is the culmination of an18 month journey, and I am trying to raise £1000 for The Christie and the Prostate Cancer Charity. Thanks to everyone who has generously donated so far.
Pete