Pre-Race
I am sitting writing this blog in my hotel with one day to go before the Olympic Games Triathlon.
It's Monday and I am going to admit I am a bit nervous, but also really excited to race. It's my first Olympic Games, and if tomorrow goes well then we could have two Olympic Medals in our sport. This is something that hasn't been done before and it's the 4th Olympics, the big incentive is that it's our home Games.
The Brownlee Brothers are unbelievable – I have been training with them now for about 2 months and I know they are ready to deliver. I hope it all goes to plan!
Race Day
Finally race day is here and I have woken up feeling good, ready to race. I just want to get on with the race now. I know the boys want to, so just had some poached eggs and toast for breakfast and although I struggled to stomach it with the nerves, I am ready to get down to the start for my warm up.
The plan is for me to swim well and try to push the pace on the bike with the boys to establish a breakaway. If this doesn't happen and there is one big pack, I will still try to keep the pressure on and keep the speed high on the bike and let the Brownlees rest as much as possible. I want to get them into T2 with fresh legs, so they can really just go for it.
During the race
After a good warm up I felt relaxed. It was a wetsuit swim as the temperature had dropped below 20 degrees. The crowd down there was incredible and people were just supporting us like I have never seen before.
The gun went and I had picked no 19 on the pontoon which was right in the middle; not the best position as once we dived into the water I got a bit squashed. I was having a pretty good swim and could see Al and Jonny in front of me, then a small gap had opened up and the guy in front couldn't hold on to the feet. It's hard when you are swimming that fast to swim around the person in front of you and had to stick as close as possible and stay confident that I was still going to come out close enough to the boys.
I was 7th out of the water and swam pretty well. As I was taking my wetsuit off, Al and Jonny were leaving T1. I was thinking just go boys and get a small break. I saw Al looking at me and knew this could be a good move and that the big players in my pack would have to chase. I was right and they reeled the front pack in very quickly. By lap 3 we were a pack of 22 guys with some good cyclists and runners in there.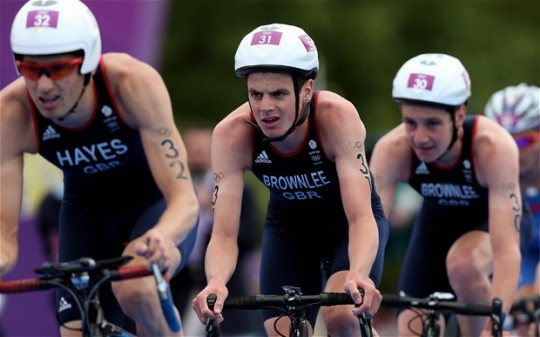 I knew once we caught I had to get to the front and apply some pressure and keep the pace high, so that is exactly what I did. I found myself taking big turns and the field were happy to sit and wait for the run. I kept checking that Al and Jonny were ok and we were trying to communicate – the crowd was so loud though it was hard to hear each other. So I just went with my instincts and raced with my head. I knew what I needed to be doing and just wanted to make sure the boys got to T2 with the freshest legs possible as well as keeping the 2nd pack with some of the fastest runners in it as far away as possible.
I rode all the way to the line and into T2, I had taken my shoes off so late that I had to stop unclip and carry my shoes in with me to the transition area. By this time it was now the part of the race which I could probably enjoy. Since I haven't run very much since being selected and the ride had taken so much out of my legs, I just wanted to get around and watch the boys fighting it out in front for the medals. When I saw that Al was leading and Jonny was up there in the Bronze medal position, I started to celebrate with the crowds and they were giving out the biggest cheers.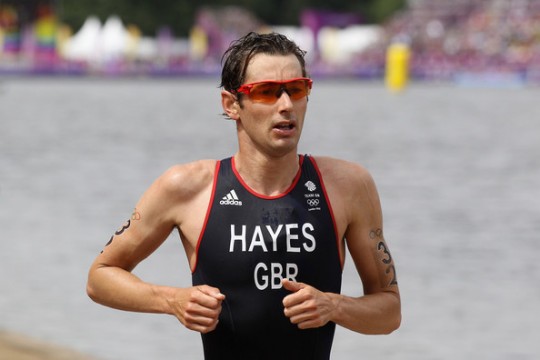 What a race! Such an incredible feeling to be part of the success of what the Brownlee Boys achieved. It will go down in the history books and to have been a big part of that is an amazing feeling. I have had so much support and messages after the race it's been overwhelming and thank you to everyone for getting behind me.
I was in such a bad place in January this year and not much was going right for me, but with a very supportive wife, who got behind me and kept me in the sport, I have Michelle to really thank for having had this opportunity.
I also want to thank the selectors, for having faith in me to be able to do this job and do it well, and my sponsors who without them it would have been hard to keep going.
What a journey and one I won't forget!!!!