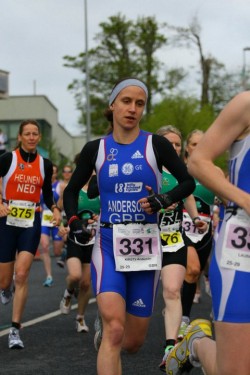 Kirsty Anderson has had a storming season so far with silver at the European Triathlon championships early in the year. Kirsy has won  just about everything in her age group. But this weekend Kirsty was out to win not just her age group but the overall title. She worked hard on the swim coming out in a personal best time of 20.18, she was then challenged with her zipper on her wetsuit and struggled to get it off, so lost time in transition. Working hard on the bike Kirsty picked up some lost time and then onto the run this is where Kirsty started to make up most of the time. Kirsty crossed the line in a personal best time for the Olympic distance 2.11 and was 4th overall. Kirsty also ran a PB on the run section with a 39min 10km! 
Celine Mcphillps was racing a different event and double the distance when she lined up for the Gallway half in Ireland. Celine had a fantastic race finishing in a personal best time of 5.25 and her bike split was in the top 5 overall with a 2.43! Celine has had her fair share of injuries this year so was very happy to be back to her best form again!
Victoria Gill headed to the Vitruvian triathlon in great shape and was ready for a big result, after crashing in her last long distance race a few weeks earlier Vicky wanted to prove that her hard training has paid off. After a great swim unfortunately luck was not on her side as Vicky's spoke broke just a short way into the bike leg. Vicky had to call it a day, very disappointed but knows she will be back stronger and more determined than ever this weekend at the London Duathlon. watch this space!