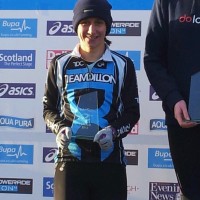 Kirsty Anderson finished second lady overall in the Great Winter Run in Edinburgh on Saturday.
The 5K road race was a hit out for Kirsty to see how she was doing and 2nd place in a time of 19.46 was a major improvement on last year's 8th place in 21.36.  The course is very hilly, climbing Arthur's Seat – the first 3k are pretty much all uphill – and then it's a sharp 2k downhill to the finish.
Kirsty has been really working on her running over the last year and has seen some major improvements in training:
With this being such a hilly course, I was predicting that I would come in at 20 minutes something, so I was delighted to go sub 20 minutes on such a tough course. Michelle and I have been really working on my running and it is starting to pay off. It was great to be on the podium so early on in the year and it has made me determined to get as many podium spots as possible this year. I can't wait for the start of the triathlon season now to see how well I run off the bike.
Congratulations on a great early result, Kirsty!