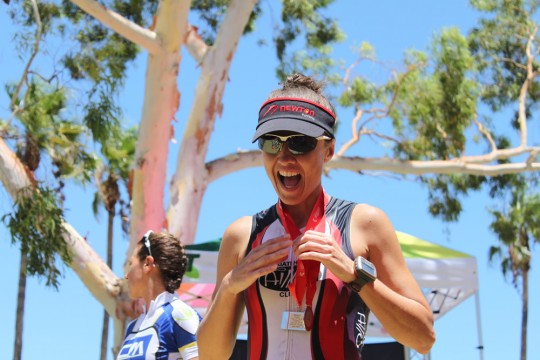 Robyn had a fantastic result in Perth, clocking  2.25.54 and coming 2nd in her age group.  Here she takes us through her race… 
Ok so my journey started off poorly with my 18 month old (Torquay), bike bag, suit case, pram and hand bag in hand at Sydney airport & I was lumped with a $190 excess baggage charge. Let's just say I was not a happy camper with Richard Branson. They did reduce it to $150 which did make me a little happier.
Torquay & I arrived at 9.30pm and it was still 35 degrees. I knew that Perth was in the middle of a heat wave but it really did shock me when we stepped off the plane.  I knew for sure I had to seriously start hydrating right then and there. From that time forward I sipped on water bottles and every now & then added some endura right up to the race. Sunday's (race day) weather was predicted a little cooler but windy. Sunday arrived and as predicted it was windy but was still around 38 degrees throughout the race.
My warm up felt great and my wave was to leave at 8.09am. For someone who doesn't go in the ocean deeper than her knees, I was honestly totally scared looking at the choppy waters of the Swan River. The gun went off and as usual it was manic and I panicked/freaked out and had a little anxiety attack. At approx. 400m into the swim after being swam over the top of many times someone pulled my cap and goggles off. I managed to grab my goggles just in time (lucky I place my goggles under my cap otherwise it would have been all over red rover) I had another minor panic attack and pushed on. The water was ever so choppy that almost every breath I took I drunk 500ml of water. I can truly say that that swim was the hardest swim I have ever done and I was so glad to reach land, considering I couldn't see it until I was basically on it due to the waves. My time of 30:05 was terribly slow (Canberra 27.05) but I was just glad to have not raised my arm and be rescued by the life guards.
I took a little longer to locate my bike and then fumbled a little with the helmet and got out of transition. On my way to the mounting line I had a Robyn clumsy moment, little hard to explain over an e-mail but I'll try. I must have somehow dragged my left foot along the road just prior to mounting on the bike and I thought I had just scraped the tip of my second (next to big) toe and it hurt but not too bad, I just thought I may have a little blood in the shoe but all is good. So off I went and I felt great on the bike. It was a four lap course and of course I felt good early cause I was with the wind. On each return home lap it was quite windy and I did struggle a little but I did keep telling myself not to leave anything out there on the bike as I knew my swim was a shocker. I had my first gel at 5km and my second gel at 30km and I made sure I had not a drop in my bottle when the bike leg was over. My bike time of 1.10.56 was a huge PB, even in the windy conditions, compared to Canberra's 1.19.38. I can now tell the hubby that my new TT was worth every cent……. Throughout the bike I didn't really think twice about my toe that I had scrapped whilst mounting the bike.
I ran into transition feeling great, smiles all round and I even gave Torquay a high five whilst running past him and the in-laws/out-laws ha… ha. When I racked my bike and put my runners on I had a quick glance at my foot and noticed no blood so thought you beauty all is good. Off I went out at a crazy pace of 3.7min/km. I really have to learn to pace myself and not go so excited early in the run. All was good as I was taking in small amounts of water at every station. Due to the weather conditions they had four drink stations on the two lap course. I took my gel in around 4km into the run as I didn't want another cramping episode. At the 8km mark I started to think gee my left foot is starting to hurt a little but I just thought I've gotta get to the finish, I'm not flying four hours to not finish. My run time ended up being 42.41, only slightly quicker than Canberra's 43.11. I know I can run much better than 42.41 (even sub 40) , it just needs to come together for me on the day.
Total Time – 2.25.54  compared with Canberra 2.29.54 earlier this year.