I am excited to report from my latest race over the weekend. I traveled to a beautiful little town, Columbia in the North East corner of America, and was interested to see what the course had to offer. It is one of the longest standing race's in the triathlon world at 29years and is known for its very challenging course. It is a course that challenges you from start to finish with its undulating and twisting terrain! There was a strong field assembled to attack the race and I was excited to again line up against the best in the non-drafting world to see what I could do.
Coming into the race I knew I was swimming well and I was quite excited to see a good mate of mine Dylan McNeice from New Zealand racing along with a couple of other strong swimmers. This was going to be a fast swim!  I had a good start and settled into line in 4th spot. I was feeling comfortable leading into the first buoys and the athlete in second position was struggling to hold Dylan's feet with the fast pace and allowed a gap to open. I pulled out of the line and moved around two of the athletes in front of me, and swam back onto the feet of Dylan. One of the race favorites, Cameron Dye, followed my lead and I knew this was shaping up to be a good day ahead. I sat comfortably in second the rest of the swim trying to save as much energy as possible for the taxing hills ahead on the bike and the run. I exited the water second and quickly ran up into transition and changed for the cycle leg.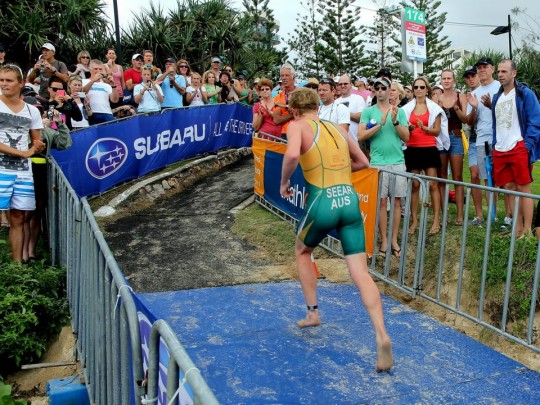 Out of transition I had to run straight up a steep grass hill, mount my Cervelo P4 and go straight up the first hill, wow that got the heart and legs working quickly! I managed to gain a small gap over Dylan and Cameron though the transition and found myself leading with a gap. I settled into a strong rhythm and tried to work a solid pace for the start of the bike. Known cycling powerhouse Cameron quickly joined me on the bike, he encouraged me to join him and push the pace on the bike to get a break away. I tried to go with him but I was struggling to push a high enough pace on the long gradual down hills to keep up so decided it was best to settle back into my pace.
At about the half way point of the bike I was joined by defending champion Andrew Yoder and another race favourite Ben Collins. I built my momentum up and was able to keep these two in sight and pace of them. I am still very new to this style of racing and with that comes a lot of learning at each race that I do! I was very confused to what then happened. Andrew had a 100m gap over Ben and I, so this meaning I had to staggered off Ben's position and Ben was staggered off Andrew's position. The stagger rule states that at no time can you ever be directly behind the person in front of you no matter how far ahead of you they are, you have a draft box around you of 2m wide by 10m from your front wheel backwards. Ben was then given a stand down penalty for not staggering, which meant he had to stop and place both feet on the ground for 60 seconds before rejoining the race. This meant I now had to stagger off Andrew who was 100m up the road. Staggering off Andrew was quite difficult as we only had one small country road lane to ride in and Andrew was riding in the centre of the lane. I thought I was maintaining the stagger as I was on the edge of the road while Andrew was in the middle of the lane, I couldn't move any further to the side. The motorbike official then told me I too had a stand down penalty, so I had to stop and unclip both of my shoes before my 60sec penalty started. I was very confused as I thought I was adhering to the rules. When my penalty was over I remounted my bike and started to build my speed again when and was rejoined by Ben. Ben has been racing this style of racing for many years and he was confused about the penalty so that made me feel better. I managed to stay with Ben back to transition but unable to share the work with him as I was struggling at this point.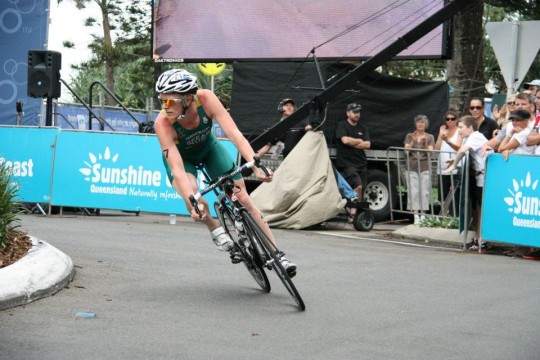 Ben and I entered transition together and I racked my bike and started to put my shoes on, I started to cramp straight away loosing about 10seconds to Ben from the get go. Once I got my legs running they felt good as I kept trying to build my pace and catch back up to Ben. The run was very similar to the bike, all up and down hills with not a section of flat except for the 200m about half a kilometer from the finish! At the half way point of the run I was caught by Matt Chrabot, who unfortunately just missed out on the USA Olympic team the weekend before. I managed to stay in contact with him for a couple of kilometers before he started to build a small gap on me, up until this point Ben and I had been running exactly 10seconds apart for the entire run and now Matt was running in the middle of us! I tried to stay in contact knowing that the biggest hill of the day was coming up and then it was just 800m to the finish. Just before the hill I saw Matt grab a gel and start to move his head around so I knew he was starting to struggle and pushed as hard as I could up the hill. I managed to catch back up to Matt on the hill and pass him, I pushed it over the hill and over the last few rolling hills to the finish! I was still the same margin behind Ben at the finish, we were pretty evenly matched al day. By the end Andrew Yoder got second and only had a few second over Ben who had a similar margin over me with Matt another 20seconds back, it was such a close finish.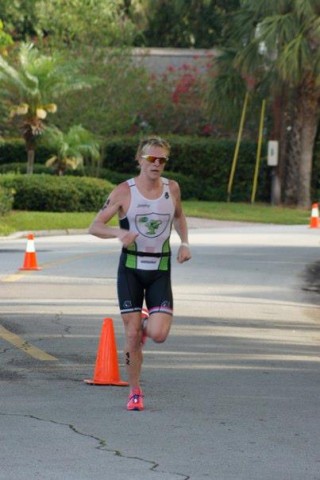 I was happy with the race! I am still learning so much and I am so excited for the rest of the season ahead. It was a good race to see how strong Cameron is on the bike and gives me something to aim at, I know my swim run combination is on par with the fastest. My next race is this coming weekend in Austin Texas with another very strong field. It will be a big weekend of racing and I am looking forward to it! Thank you again to all of my sponsors for helping me reach my goals!