Dambuster Standard Distance – June 16th 2012
First Standard Distance Age-Group qualifier for the 2012 World Champs in Auckland in October.
Went to register on Friday afternoon and it was blowing a gale – tents flying around and  a lot of anxious looking athletes picking up their race numbers and timing chips. With big waves on the reservoir and the water temp below 12 degrees the officials told us to check in early on Saturday as there was a strong chance the swim would be cancelled and the race turned into a 10,000 person duathlon!
Up at 5.00am on Saturday – it's still windy but not as bad as yesterday – so off we set. Got to transition and it seems the decisions has been made – we're off for a dip in Rutland water! Muted cheers from the mass ranks – all but a few proper swimmers who are grinning like Cheshire cats!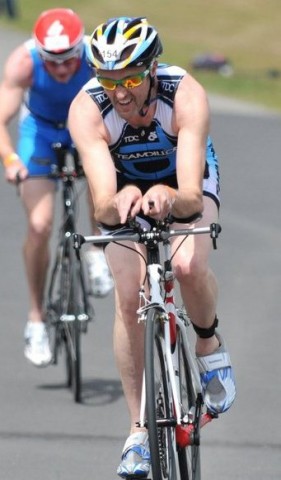 It's a beach (errrrrr muddy slope actually) start which makes for an interesting start to the day. I get wide of the main pack – run, wade, hop, dive and we're off. The water is really cold but I manage to find some feet going about the right pace and settle in. Waves are pretty high making breathing a bit of a challenge but after a couple of changes of feet to follow (how can some folks swim so well but sight so badly?) I'm out of the water and heading off to transition.
Head out on the bike into strong winds heading towards the famous Rutland ripples. Overtaking quite a few folks from earlier waves and feeling good – had a couple of duels on the bike with guys who are better than me up the hills but slower on the straights and downhills and we're back into T2 – I'm relieved to see very few bikes in my part of transition (we're racked up by age group) – grab a gel and some water (a fleece and a hot water bottle ………in my dreams) and we're off out on the run – into a howling wind!
Get passed quickly by an athlete in my age group who looks much quicker than me on the run but I stay focussed on him and manage to pace myself just behind him for the full distance – even managing to get him into a sprint finish at the end….. which I lost.
Thrilled with the time of 2.16 and 10th place in 50-54 AG out of 52 starters. My previous Dambuster time was 2.36!
Deva in 2 weeks, then it's Bristol Sprint, then it's getting the calculator out to see if I get a place for Auckland! Fingers crossed….