Meet this weeks TDC athlete Andy Long.
Throughout our journey as Team Dillon athletes and coaches we are able to meet other like minded athletes and characters that motivate us along the way. Some athletes are full of the competitive front, whereas others may be shyer and more inclined to hide under the spotlight. There is no right or wrong, instead it adds variety and depth to the Team Dillon community. If you haven't already… meet Andy Long! Ironman finisher, cycling fanatic, newly made swimmer and most importantly one of the most laid back TDC athletes we have amongst us. His positive energy, rational thought process and inspiring adventures has us gripped through his accounts of the story so far. We thought it was only necessary to share it with all our athletes and for the interest of the public too. Sit back and enjoy this fantastic read!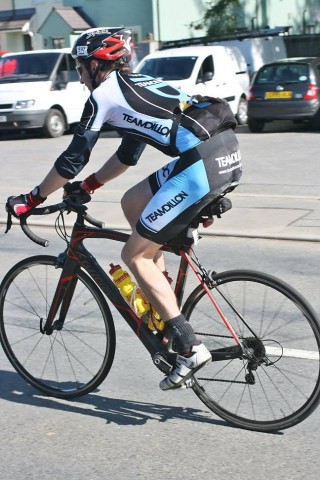 Why did you start triathlon?
The main reason I started triathlon was because until the start of 2014 I couldn't swim. I couldn't complete 10 metres of a pool and it was one of my secret shames that I needed to put right. I had always participated in long distance running and bought my first road bike when I was 24 and enjoyed going out at the weekend and getting lost in the Surrey Hills and surrounding area.. I enjoyed both disciplines just for fun but was relatively handy at them.
Explain the dream to become an ironman, and how it came about.
I had always known about Ironman and so in 2014 I set my self a challenge to teach myself to swim and complete one in the next two years.
I have a large 'to do' list I put together when I was about 16, from which I aim to cross off about ten things a year (a bit nerdy but it focuses me on what I want to do that year). On that list, amongst others, was to complete an Ironman.
When did you decide to take the sport more seriously and complete the ironman?
Ironman was always the focus from when I was starting to teach myself to swim so in terms of taking things more seriously, I would say that has come more since I joined TDC and have focused on getting times down on the shorter races. The Ironman event was never about the time for me; it was just about finishing and enjoying the day.
Explain your ironman prep and how the race planned out.
I had about 18 months to learn to swim and complete an Ironman race.
The focus for the first half of 2014 was all about learning to swim and getting over my fear of deep water. My local gym had a 20 metre pool, but more importantly it was only 1.2 metres deep so was a safe playground to start. I joined the gym, bought a swimming book recommended to me by a friend and also watched a number of beginner youtube videos concentrating on the absolute basics of swimming. I then made sure I was down the pool about 3 mornings a week practising some of the techniques and setting myself little goals each week.
Over a number of weeks I managed to get further and further down the pool until finally I completed a 20 metre length!! Then it was a case of building on this week after week and ensuring each session had a goal to it and I wasn't just swimming without a point.
The goal for the latter half of 2014 was to complete a couple of sprint triathlons. Before which I had to conquer my fear of open water! So I got myself a wetsuit, booked myself in with a coach at Shepperton and faced the fear head on. It was very scary, and the coach was very patient but by the end of the session I had completed about 400 metres on my own (with a kayak close by) and felt as if I had reached a major milestone. It was then up to me to keep going to the lake week after week and forcing myself to get swimming. This is now my most enjoyable part of the race!
I completed two sprint triathlons at the end of 2014 and all was in place to ramp up training in 2015 to the September Ironman in Wales.
Unfortunately as 2015 began I got knocked off my bike by a car on the way to work and broke my tibia and left wrist as well as injuring my back. This meant my training took a bit of a hit….
I was in plaster for 13 weeks, after which I was on crutches for a further 6 weeks. The tibia break was healing but the tendons which ran down my leg and into my ankle had taken a pounding too so recovery took a long time. My friends and family asked me to try and divert my place to 2016 and / or get a refund, but I had no intension of doing that. I am a pretty stubborn sod when it come to personal challeneges and I was determined to complete the Ironman in September so picked myself up and began planning milestones for 2015 to get myself across the line.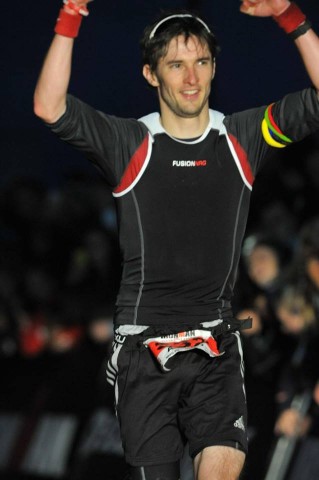 This consisted of gentle progressive training on my turbo trainer, allowing me to control how much weight I was putting through my leg and getting more time in at the pool due to the low impact on my body. The swimming helped build up mu cardio as well as building the strength back in my wrist. The turbo trainer allowed me to focus on different muscle group sets and gradually build myself back up. Running however was a complete no no, and even the thought of jogging sent shivers down my spine. My leg was nowhere near strong enough, but there was the psychological side too of thinking it would snap if I landed hard on it!
I took part in a 'Tour du Mont Blanc' challenge mid 2015 when I was confident my leg was getting better. It was hard work but was a massive boost to my confidence. Using the plan my friend had given me, I built my swimming and cycling back up to the point which meant I was adhering to the training plan, but the running was still none existent.
About 3 months before the race I met the TDC team. I wasn't part of the team at the time but was able to join a few group rides which helped with my training which until now had all been solo. I then started a few short runs / walks to build confidence back in my legs, but these did not go well. My leg would swell and the tendons needed ice on them as soon as I finished.
I gave the running a rest until about a month before the event where I was able to complete a very slow 10km, but more importantly there was no pain or swelling. I decided to travel to Wales with the aim of completing the event in under 17 hours.
The event itself couldn't have gone better and the people couldn't have been nicer.
The sea swim was very wavey, with lots of people being sick in the sea, but my open water fears had been conquered, and where I may not have been very fast, I completed the swim stage and passed my family on my way to transition with a big stupid grin on my face thinking about where I had been 18 months ago.
The bike course was gorgeous and is where I came into my own. I paced myself as I knew there was still a marathon to come, which my training for had been none existent. I made sure I cycled within myself but couldn't resist racing past as many people as possible on the climbs. My family had positioned themselves along the course and got to give them a wave about 5 times along the course.
The run consisted of 4 laps through Tenby on a very undulating course. However the crowds were great, the music was pumping and the aid stations well stocked. After 11 hours of racing, TUC biscuits taste amazing! I took the run course nice and steady and managed a marathon just over 4 hours.
My transition times added up to around 50 minutes which kind of give you an indication on how I race, but to be honest I was just taking it as a long training day with my eyes purely on the finish line.
I crossed the line in just over 12 and a half hours and sat down with a cup of tea and pizza to reflect on my journey from Broken-man to Ironman 🙂
What was your motivation behind joining Team Dillon Coaching?
I came across TDC by chance and had never been part of a cycling club / triathlon team. I'm not really a very competitive person so thought joining TDC would be an opportunity to surround myself with driven athletes and work towards some ambitious goals.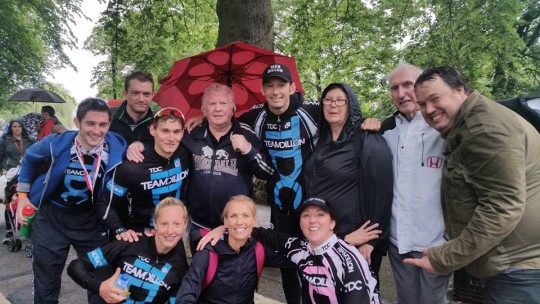 How do you fit training around work?
I have never been one for training before work, but do generally ride to work (approx. 10 miles one way). Therefore the bulk of my training happens between 18:00 and 21:00 on week nights. The weekends are also free to get the long rides in. Plus I'm a single guy without any kids etc. so generally have a lot of free time to comfortably get my hours in.
Work recently has been getting in the way but this should now be coming to a close and I can finish 2016 on training high.
What's your fuelling strategy like?
It depends on the race length really. In an Olympic distance I have a bottle of isotonic on the bike, and generally have one gel as I start the bike and one gel as I start the run. I haven't really discussed this with TDC so maybe something they have a view on. The morning always consists of porridge with muesli and a banana and a big old cup of Truestart coffee (a shameless plug)
The Ironman distance fuelling strategy consisted of the same breakfast, but during the day was very different. During the long bike stage I made sure I ate every 30 minutes and generally only had a gel once every two hours. Again this is really just what I got used to in training as opposed to backing it up with any science.
Who motivates you within the sport?
I have always been motivated by tour cycling more than anything as I am always amazed at the limits the teams push their bodies to over the 3 week periods. The work horses like Gerrant Thomas, Ian Stannard and Steve Cummings are very impressive.
I am still fairly new to triathlon so have only followed it at arm's length however am always amazed by the times recorded in the 10km distances off of the bike.
What do you like to do in your spare time when you are not training or working?
I am a big fan of rock music so like attending live gigs when I can. I also enjoy hiking and would want to get more involved in wild camping. I have a few events coming up in the next few years like riding from London to Venice and walking the length of Nepal through the Himalayas. If I have a challenge to work towards and can raise a bit of cash for charity along the way I'm a happy chappy.
Recently you decided to take a new career adventure?
I have always believed in working hard in whatever you do. Over the past 6 years I have worked hard within the rail sector and circumstances are now right for me to try working for myself. I have always wanted to be self-employed and believe now is the time to give it my best shot.
I understand the work life balance may take a bit of a hit, but if I'm working for myself then I would like to think the sacrifice will be worth it.
Where would you like to go with the sport?
Good question! To be honest I have no idea. I don't think I have the killer instinct to ever be a serious contender / age grouper so plan to have a meeting this week with my coach and see what goals would be realistic. My sister is currently in Wanaka so putting in a good time in Challenge Wanaka (without having to deal with a leg break in my training) could be a good milestone.
What was your experience like at the TDC Spain Training Camp?
The weather, food and people were great. The sessions were well spaced so you never felt rushed or too fatigued to take part. I gained the most from the swimming. My technique had never been looked at before and I was very conscious that my self taught technique would be full of errors.
I learnt a lot from listening to Michelle and watching Stu and Emma under water.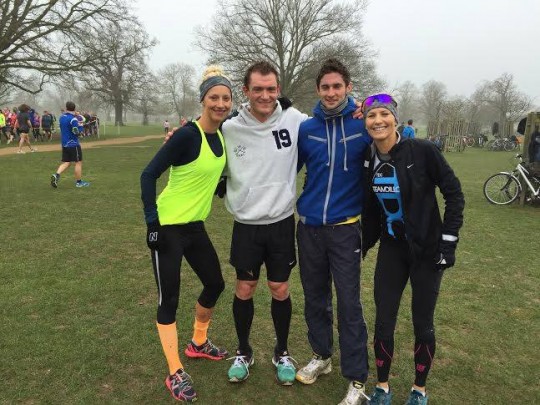 We would like to thank Andy with his honest response to the questions he was asked and the great determination and adventure he shares with us through his journey. Here we would like to conclude with some words from his coach, 2x World Duathlon Champion and TDC coach Emma Pallant.
"Andy is a great guy to coach, not just because of the commitment to his personal development but the great support and genuine care he brings to the rest of the team, Andy embraces the community family feel of Team Dillon and his humble, disciplined and balanced approach to his own training is inspiring. Andy has a demanding managerial role and has recently been working extremely 'long' 😉 hours but never grumbles, we have just worked with the time we have available to training and he continues to get the best out of himself. Always has a smile no matter how stressful a day has been and i love his sunny emails and working with him. I set some pretty ambitious paces for treadmill sessions just out of reach of what i know he will definitely be capable of because it never phases him when he doesn't complete it first time, instead he looks forward to the next time it will be in his programme with the determination to get closer than the time before (in fact he actually requests to have another shot!). This has lead to his massive park run PBs and a brilliant 40km bike PB last weekend. The swim he transformed on our TDC warm weather training camp in Spain showing his quick ability to take things on board and i can't wait to see where he goes in this sport…. a super modest guy but i have some big plans for him!"
On behalf of the team, thanks for reading
The TDC team