Interview: Ali Tabal
At Team Dillon we are inspired by every one of our athlete's stories no matter where it starts. We also thoroughly enjoy inspiring our team through the stories of others. One story that particularly had an impact on us all is Ali Tabal's. Coached by Michelle, Ali has competed in 4 ironman, 8 70.3s, several marathons, half marathons plus numerous Olympic and Sprint distance races. It is not only the achievements he has made but the experiences he has had to get him there which makes Ali so special.
"Triathlon has now evolved into something that is far beyond what I ever imagined."
Ali's triathlon journey unlike many triathletes started years ago, 8 years to be exact. The simple objective to lose weight had him intrigued by the sport. At this point he had no idea what level of emotion, determination and enthusiasm he would find. Here we speak with the man himself and listen to a captivating account of what life in triathlon is like, according to Ali.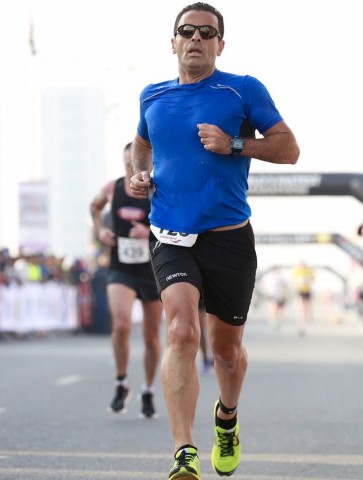 Feeling inspired
What brought you into the sport?
I was always athletic growing up and even into my university years I played football, windsurfing and judo; but my demanding career, family life and social commitments consumed most of my life until about the end of 2008 when I realized that I must make a drastic change to "rebalance".
What did you do to make this change?
I took a few failing attempts in the gym but hated being indoors.  Although I started to see a difference, but knew I wasn't going to be dedicated in the long term and wanted to be outdoors with more excitement. From here, you decided to complete your first triathlon.
Please explain how this came about.
I decided to participate in an Olympic distance race with no prior training or preparation!  I was only equipped with the basic knowledge I had watching a couple of Ironman videos, my family's support at the finish line, a hybrid bike with flat pedals and an inspiration.  The race was a total suffer fest but I finished the race and I wasn't the last one to cross the finish line.  Even with the extreme suffering, it was on that day when I realized that I found exactly what was missing.
You describe the start of your triathlon journey as an 'endurance affair' explain how your love for the outdoors began to be 'a way of life' that you have so greatly described? 2009 was an eventful year for a newbie when I trained for and participated and completed my first full marathon, first half Ironman, first Ironman and also climbed Mount Kilimanjaro amongst a few local sprint and super sprint events.  It was definitely a very exciting year for me and I knew then that this was becoming more than just a way to get healthy and fit.
Everyday life
Could you explain the area of work you are involved in?
I started my career in investment banking and advisory in New York City and relocated to Dubai when an excellent career opportunity was presented to me. I am currently the COO of a global ultra-luxury hospitality company based in Dubai but managing amazing resorts all over the world in exotic locations.
Your field of work requires a serious amount of precision to detail, how has this affected your personality?
I was always very focused on my career and worked absurd hours and continuously traveled on demanding business trips.  I still do!!!  This determination and focus allowed me to progress my career to a new level adding various levels of responsibilities and stress along the way.
Many people find the idea of triathlon daunting, the pre conception of the sport still puts people off. As a very busy man, how has it had an effect on your everyday life and how do you manage to prove that triathlon can be for everyone, and a busy schedule is just an excuse!
Indeed, the only challenging part was how to manage this new demanding activity in my life with the other already demanding responsibilities.  Surprisingly enough, the sport helped me become even more organized and conscious of time to prioritize daily activities and making sure to provide for enough time to train and recover.
Michelle explains that your dedication is next to none. Can we hear about how you schedule your training in? I believe we will all be amazed by the way in which you find the balance and let training have such a positive impact on your work.
Previously my day primarily consisted of simply long stressful hours in the office, nowadays my day starts as early as 4am with an early morning training session that could vary in length and intensity from a simple recovery spin on the bike to a very demanding interval brick session (these are the sessions I love the most, ask Michelle).  It is amazing how after completing the morning sessions, I get on a complete high and go to the office with amazing drive and energy to start my day and this energy typically stays with me for the rest of the day no matter how late I stay in the office.  However, my system starts shutting down by 11pm demanding immediate sleep and recovery.  I try and do most of my planned training in the morning before going to the office, but I occasionally have a couple of sessions a week in the evening, which I try my best not to miss.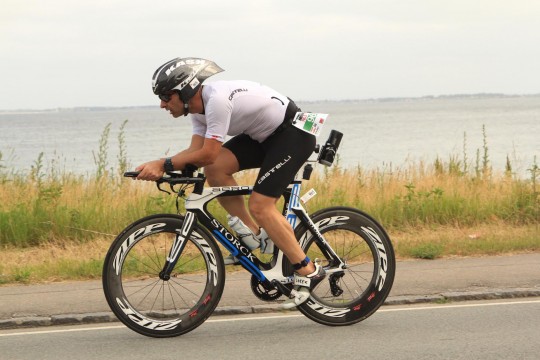 How does your fantastic family fit into all of this?
I must never forget how understanding, patient and supportive my wife and 2 kids have been throughout this journey.  For them, my daily training including my weekend long rides and runs have become a routine and a way of life for them as well.  Though it is important to highlight here that I try my utmost best never to compromise on their quality of life because of my training so I make sure that most of my training is in the early hours of the day so I can be back home at the appropriate time to join them for breakfast or a weekend activity.  What is even more amazing is that they love it and they look forward to my races as they love to come along if the Kids' school schedule permits.  I typically perform better when they are around.  I am inspired by them as much as I inspire them to live healthy and be active as well.
The Journey
How has Michelle made such an impact on you through your incredible experiences?
I never thought that as I get older and with the appropriate coaching and guidance I could get faster.  I never thought that at my age I could ever compete at this level.  I had a feeling from the start that she would be the one to work with, and I was right.  Ever since I started working with Michelle, my training has gone to a totally new level with evidence of continuous improvement that I am actually very excited about.  This year I have placed 12th in my age group in the Dubai 70.3 and a potential PB on a swim adjusted basis as the swim was shortened due to bad weather.  I also had a PB a couple of weeks later in a half marathon and raced very well in Denmark 70.3 a few weeks ago, but couldn't deliver my best performance due to a fall and an injury early in the race, but I still managed to finish in just less than 5 hours.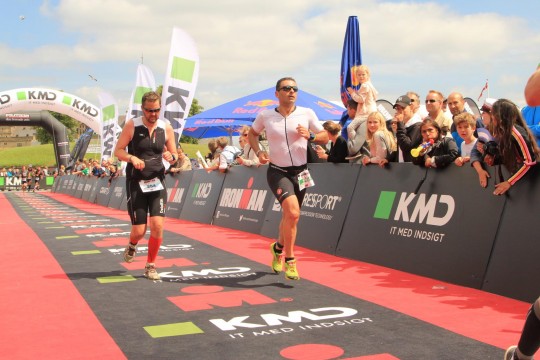 We also understand you lost a great friend through a tragic accident. Your determination to bounce back in 2015 is truly incredible. How did this devastating event impact your life within the sport?
This was the tragic accident that cost the sport the loss of an icon and my dear friend Roy Nasr.  This was probably one of the most difficult periods I have been through that I never totally recovered from.  While I attempted a comeback in 2015, I only focused on my running but kept riding and swimming occasionally.  It is at the end of 2015 when I was really motivated to get back into the sport and wanted to start working with a best in class coach. This was Michelle Dillon. (Picture below Ali left and Roy right)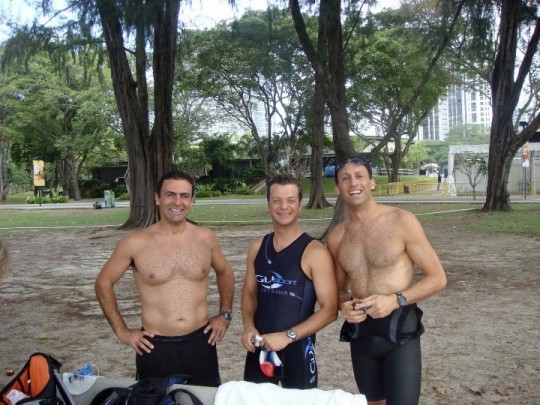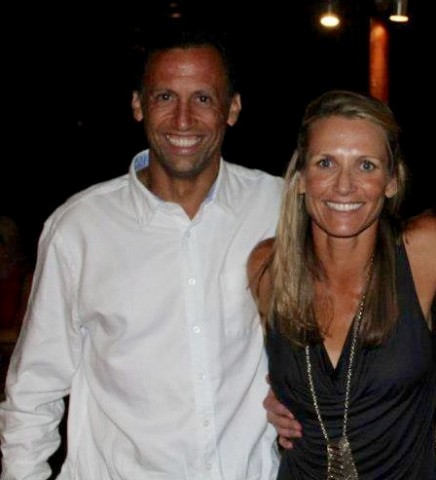 (Picture above Roy and Michelle at the Dubai Training camp, Ali was inspired to take up coaching from Michelle after hearing good things from his very close friend Roy)
To inspire those that doubt the adventure, how would you say triathlon has most impacted in your life through your experiences?
Being part of Triathlon life has been an amazing journey for me and I can easily argue that it made me a much better person across many aspects, be it at home with my family, at work and even in my social life. I have never been healthier or fitter and with generally more positive energy.
What is next for our TDC athlete Ali and his astonishing will power in this sport?
I have never been hungrier to perform.  With the appropriate coaching and guidance I am receiving now, I know I can commit to the training and racing at least 2 to 4 times a year and continue to have triathlon and endurance sport a way of life even at an older age.
In the long term, and I may define long term as 1 to 3 years and beyond, my objective is to definitely continue on the same path but perhaps with an aspiration to get back into the Ironman distance.  I wish by then or even sooner I can back it off a little at work and be able to train more and recover more for ultimate performance as an age grouper.  I have had serious thoughts about taking this to the next level in a couple of years and perhaps competing at an elite age group level.  I know that I have it in me.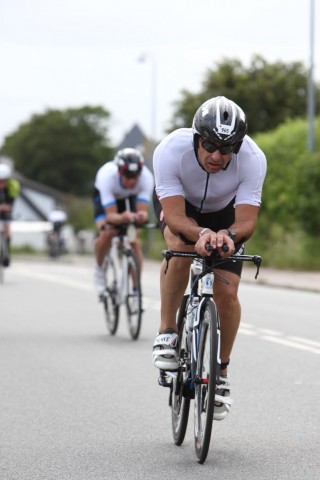 On behalf of the TDC Team we would like to thank Ali for the amazing adventures he has shared with us. Ali's mentality within the sport we all love and cherish is so positively portrayed through his accounts. Ali is a perfect example where time is an issue but balance is a necessity. Using triathlon and excelling through the sport has benefited all aspects of his life. There has also been times which none of us would ever wish to imagine or experience but Ali's determination and hunger to fight and perform stays strong. We are incredibly glad to share his story with our own athletes and those members of the public that wish to get involved.
It is only fair that we finish off with a few words from his coach, about the joy he brings to founder and Head Coach Michelle Dillon, over to you Michelle.
"Ali is so dedicated not only in his training but in his work and life as well, since I have been working with Ali we have been able to make some real improvements in a short space of time, we have been able to hit targets and goals I don't think Ali thought were possible. It comes down to his hard work, dedication and consistency, as well as sticking to the program I set him week in & week out. Also its about believing and trusting in me as his coach, once you find this important balance, I feel the results start to come. I am excited to set more goals with Ali, work together & go after them no matter how big they maybe. Anything is possible if you have the commitment, very proud coach"!
Best Wishes
TDC Team!