Action packed May for the team!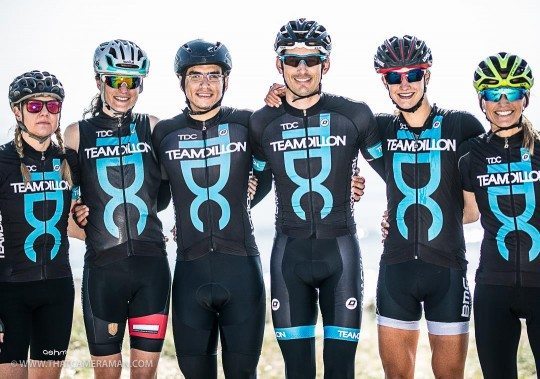 May 2017, has been an overwhelming month for Team Dillon. Our athletes, coaches and supporters have been busy training, racing, cheering and celebrating across the globe. April proved to be a very successful month and to continue the amazing efforts we knew May would need to be huge. TDC did not disappoint and we couldn't be happier with the brilliant results we have all shared within the team. As coaches and athletes, we know the importance of recognising what has been achieved and allowing ourselves to enjoy the moment. Here we want to share these moments with friends, family and fellow athletes to recognise the hard work and keep us motivated for personal bests this June.
It all kicked off with May, bank holiday weekend. After a fantastic European duathlon Championships, it was difficult to see what was still to come. Here we witnessed our TDC girls steal the show as they went away with medals round their necks and trophies in their hands. Both taking silver medals, Lori Westcott & Louise Croxson had fantastic results. Louise was competing at Hart Triathlon, whilst Lori was racing her second race in three days at Thames Turbo triathlon.
We then head over to the Mallorca Olympic Triathlon, located at the Best Centre, Colonia Sant Jordi. Emma stormed to success, after what was described as 'a blistering run, achieving the fastest run split of the day overall.' Emma's brilliant training block guided by Michelle Dillon was proving to have outstanding results. Westcott also competing, smashed a 31 minute pb, a brilliant way to continue her success. This weekend also saw Anita Smith winning her age group at Dorney Lake, placing 7th overall. Middlemist was also racing at Dorney, she again won her age group and placed 8th overall in the Olympic distance. Jess Thorpe was out racing the Dorney Sprint triathlon and took the win in flying form. Our females were truly flying and the support for these ladies from friends and family was phenomenal, on and off the course.
From here we were off to Portugal with Louise Croxson, finishing a fantastic 3rd place. This race came off a very tough training block, so to see Louise standing rather than crawling across the podium was an outstanding result. Whilst Croxson was racing here, Lynn Clay was putting together her first race of the season. After experiencing serious stomach viruses and injuries Lynn went on to complete 70.3 Busselton in a time of 6.19.11. After a tough time with sickness this was a great start for the season ahead.
TDC's Annaliese Lancaster completed the Fred Whiton 112 miles Sportive in the lake district, clocking a time of 9 hours 44 minutes on a tough course. Lancaster had explained, 'it was a tough event, and you had to manage nutrition well, but I loved it and was a very good training day.' This was an exciting result for Lancaster and we are excited to see her races to come.
Back to Mallorca we had Emma Pallant competing in the Mallorca 70.3. Emma finished 2nd to last year's winner Laura Phillips with 3rd going to her teammate Amelia Watkinson. As mentioned from her coaches, 'Emma continued to show consistency throughout her races and is going from strength to strength.' A great result for Pallant and an inspiring one for her TDC athletes. Mark Everett was also competing and broke the 6-hour mark clocking a phenomenal 5 hour 57 minutes.
Dillon's athletes out at Triathlon Sahl Hasheesh had a great performance finishing first and second. Mo Khaled and Khaled Essam both making their coach proud. The 13th & 14th of May also saw Mark Brusk Kivilcim Korkmaz race the Royal Wooton Basset tri in the sprint distance. He finished a fantastic 20th place overall. Stephen Clarke ran a personal best of 27 minutes 34 whilst his wife and TDC athlete Anne, had a great run too.
The Spanish sun was far from escaping us, as our TDC elites and age groupers hit IM 70.3 Barcelona. Taking the win was Emma Pallant with a dominant performance. As Emma hit the run there was no looking back. Pallant's display of hard work shows to be paying off and we are proud. Chikin was also competing and had a fantastic result finishing 17th. Having been in the sport for such a short space of Alec Chikin is on for fantastic things. Herbert ran a personal best of 5 hours 8 minutes, 41 seconds. Whilst Kevin Scorcher unfortunately crashed on the bike, but still managed to finish! Ali Tabbal was competing in the 70.3 distance also. He raced St Polten and finished 6th in his age group. Ali is targeting the World Championships this September.
Hidden from the heat was Jamie Chatfield who raced Outlaw half in a brilliant time of 4 hours 41 minutes and 39 seconds. Jamie's progression has been huge and we are incredibly excited for his later races this year. David Inglis was out on 'the longest day on the bike' as he describes, at the Etape Caledonia. This race had just under 4,000 ft. of climbing. This same weekend we had Alex Lake, David Stockwell, Anita Smith, Paolo Massi & Adrian Collyer all competing at Dorney. Brilliant results were achieved including strong finishes.
The month of May then ended with another jam-packed bank holiday, race weekend. David Inglis who couldn't run 5km when he joined TDC completed Edinburgh marathon. Charlotte and Dave Elder completed the 62-mile run to Brighton in aid of cancer research, whilst Paul Sweeney beat his younger brother to finish 3rd at Northwood Sprint Duathlon. To finish the month off we had a brilliant achievement by Jon Baguely. Jon completed a 100k run, which he described as 'much flatter than my other 100k runs'. A truly fantastic athlete and achievement for the team and for Baguely's brilliant adventures.
As May comes to a close, we hear from Michelle Dillon and her comments on a spectacular month of TDC racing,
'It's been another stellar month, with the team producing some more outstanding performances. You can see how hard everyone has been working with the results that are being achieved. I couldn't be prouder, keep up the fantastic work TEAM, excited about the rest of the season!'
We hope you enjoyed this month's race report and be sure to find out what's been happening at TDC across our Facebook, twitter and Instagram pages. We are sure this month's results can be used as fantastic motivation to train that extra bit harder this June.
On behalf of all of us, thanks for reading.
The TDC TEAM
Written by Michelle Dillon & Caitlin Bradley