KICK START YOUR WINTER TRANING WITH THE

RUGBY

WORLD CUP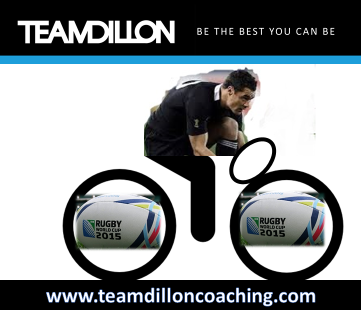 You will need:
a TV, Ipad or laptop
a bike with turbo,

exercise

bike, wattbike or spin bike
a watch
TDC rule list
Get inspired by the
rugby
and start your own fitness regime with
out
TDC World Cup
Workout
. Set yourself up on the match, whack the chosen game on and start steady cycling. Every time one of the events listed below occurs, follow the TDC instructions:
PENALTY Sprint 10secs

out

of the saddle, sprint 20secs in the saddle, 10 secs

out

of the saddle, then 20secs back in the saddle
KICK OF THE BALL 15secs SPRINT
LINE

OUT

1min HARD EFFORT
TRY 3mins HARD EFFORT
TRY CONVERSION 15secs SPRINT, 45secs spin, 15secs SPRINT, 45secs easy
DROP GOAL 30secs SPRINT, 30secs easy, 30secs SPRINT, 30secs easy
Ride continuously throughout the first half, doing the sprints as and when the events occur, then get showered and changed in the interval and have a good foam roll and stretch
out
during the second half. Make sure you drink well and keep well hydrated throughout.
FOR A PERSONALISED 'KEEP FIT' VARIED WINTER PROGRAMME WITH STRUCTURED

TRAINING

FOR THE HOLISTIC WELL BEING OF THE  BODY CONTACT TEAM DILLON TODAY ON enquiries@teamdilloncoaching.com