Its been a big year 2012, we always knew it would be and The London Triathlon came around so quickly again, however slightly later this year due to the Olympic Games. 
So the weekend of Sept 22nd & 23rd everyone was heading out to the Excel Centre to rack their bikes and get ready to race over the sprint or Olympic Distance events. The weather was lovely for Saturday but it turned cold and wet for Sunday and there were a lot of crashes which ended some people's races.
However for the fortunate ones that either managed to stay on their bikes or miss the heavy downpours it was all GO.  Team Dillon had another great turn out with our age group athletes putting on another fantastic show, coming away with personal Best times and smiles on their faces.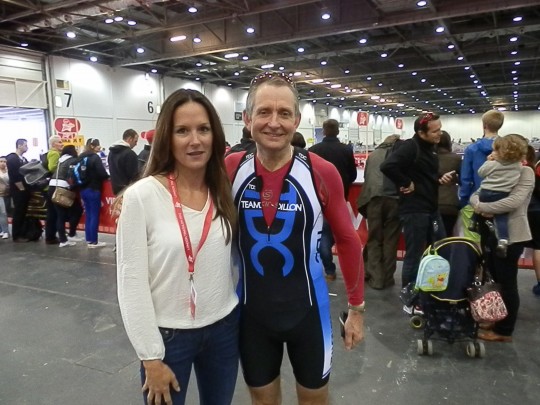 Cris Swinhoe pictured above with his coach TDC coach Annie Emmerson once again showed just how amazing he is with another win in his AG 55-59 years but also finishing an outstanding top 10 in the Olympic Plus race with a 3.32.
Richard Neuleander coming down in distance produced a great time also with a 2.2  in the Under 2.30 Olympic Distance wave.
Peter Longworth & Jamie Whitcombe also had strong races and progressing along nicely.
On the Elite side our Olympian Stuart Hayes started although knew the task head could be a tough one after some recent down time. Stu was in the lead pack of six out the swim, and also off the bike, they had a 1.30sec lead on the next pack however it was there that Stu called it a day and chose not to run, but enjoyed being in London racing nevertheless.
Stuart also had the opportunity to meet Sir Richard Branson and start the Celebrity wave alongside Sir Richard and Olympian Lucy Hall.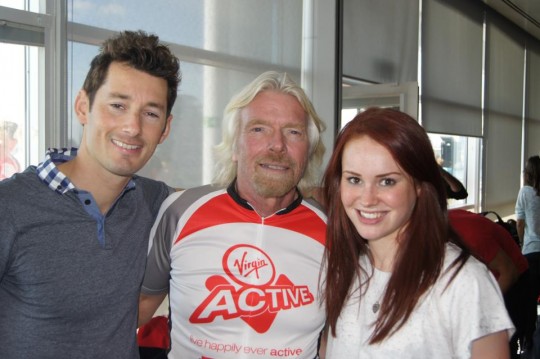 Then it was the Elite Women's race and  TDC newcomer Emma Pallant who is 23 years of age proved that she is a name to watch for the future with a 21.39 for the swim, 1.05 for the bike and 35.38 to storm through the field and take 6th Place and record the fastest run by over 2 mins in only her second ever Triathlon. Coming from a strong running background, she now has the triathlon bug, Look out world!!!