World Championships 2016, Cozumel Mexico!
From September the 11th to September the 18th, Four of our amazing athletes will be competing on the world stage! Not only performing internationally, but also representing Great Britain at the world age group championships in Cozumel, Mexico!
At Team Dillon we are so proud of all of our athletes, so we wanted everyone to hear all about each athlete individually and find out more about their preparation as we get closer to the World Champs, only a few weeks away. Please let us introduce, David Stockwell, Michelle Donnelly, Anita Smith and Louise Croxson.
David Stockwell: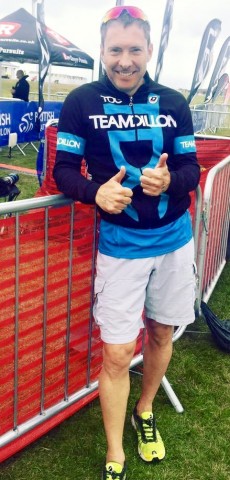 Triathlon, for me has been something that I have enjoyed now over a short number of years, after a football injury that led to reconstructive surgery on my ACL in my right knee which, at the time I thought put paid to any sport and thinking my Bridge playing days were sooner than I had hoped ! I did a little bit of cycling to help my recovery, then met Michelle my partner who introduced me to the sport.
I managed to sneak in to Qualify for the European Duathlon Champs in Austria in 2014. I just wanted to wear the GB suit again, but quietly my main goal was to make it in Triathlon. Stu Hayes agreed to take me on, took on board my comments on my weaker areas, like Swim Bike and Run (er !) and set out a plan of action. Even though the Qualifying races for the Triathlon Worlds were in May, we started off racing in Duathlon with the first race two weeks after the TDC Camp in Spain where my legs were destroyed in the mountains (thanks guys), which made me stronger for the racing/training to come. Next thing I know, I had Qualified for the Word Duathlon Championships in Aviles, Spain which was a nice bonus ! What a great weekend that was, seeing Emma and Michelle racing in the Elite race, such an inspiration seeing these ladies compete!
Back to Triathlon, the 3 Qualifying races were in St Neots (changed to Grafham), Southport and the Dambuster in Rutland Water. All entirely different courses, Grafham I had a solid race but my percentage versus the winner in my AG, was below 115% for the cut off, but too low on the list to be in the top 20. Southport, another good race, this time 108% which gave me a very good chance to be considered. The Dambuster, which was shortly after the World Duathlon Champs and, as I found out that day was atough day in the office for me. I found myself 21st on the list of 20 to qualify, thanks to the Southport outing, sat tight for a week then heard that someone had dropped out leaving me with a space to race at Cozumel, I had done it !! So proud, all of the hard work paid off.
Mexico will be a surreal experience I guess, with all the Pros there and hundreds of Age Groupers from all over the World, I have seen the start list already for the race in my Age Group which keeps giving me a sharp adrenaline boost, not sure I will need a coffee on the day of the race. Luckily, my partner Michelle Donnelly also qualified in her respective Age Group, we train together at the weekends which gives us a great balance understanding when we are feeling pretty tired. I think at the end of our race, we are likely going to share a protein drink, maybe a quiet beer before lots of loud ones !!
Michelle Donnelly: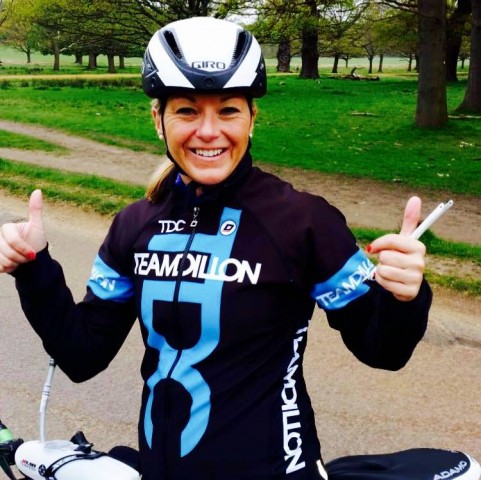 About me: After watching a friend take part in London triathlon in 2004 I thought I want a go at that and I did it the next year borrowing a wetsuit, I bought a second hand bike and that was me hooked.  Whilst still playing County level hockey for Essex I started training for triathlon. I had been playing hockey from the age of 9 to 32 at County level and trials to represent my Country,  but it finally took its toll on my knees and back having two knee operations and disc problems in my back therefore gave it up to focus on triathlon.
How has TDC helped me in this journey:
So after leaving a triathlon club a year ago that was damaging my self belief and almost made me leave the sport I was rescued!! I had arranged to have a cup of coffee with Michelle Dillon after she ran the run leg of the London Triathlon. I explained I was in no man's land really, that I loved to train probably more than racing as I have so much enthusiasm and love for the sport. I needed a little bit of guidance on how to train smartly for triathlon and guidance on my nutrition and strengthening my body looking after my back knowing Michelle has had major back problems herself.  I asked Michelle if she would take me on as her athlete and I was delighted she said yes!
Preparation for Duathlon/Triathlon Season by TDC my coach Michelle Dillon:
So we sat down, talked about my ambitions and goals, did some time trials to see where I was at and what she had to play with.  I remember the first three weeks I was struggling with every session, feeling so exhausted, saying to Michelle "Do you think this is too much training for me" and I will never forget her saying to me "after 6 weeks you will get used to the volume and your body won't be as shocked and it will get easier just "trust me". I made it!! I was going to the Duathlon World Championships to represent my country!! To this date the biggest achievement of my life and to be going with my partner David was unbelievable and the cherry on top was that my coach was coming out of retirement to represent her Country too.  What a weekend, had a brilliant race finishing 18 out of 28 and after this something happened to me!! I actually found self belief that I can do this and had a right to be there.  So with Triathlon season literally about to start I thought qualification time for this might just be possible now, bring it on I have nothing to lose only try to be the best I can be!
I went to the first qualifier of the season at Graham Water coming in 12th in my age group, it was hard as these ladies can race and fast, this was my first ever qualifier race for triathlon at this level so I just held it and gained a percentage of 114% out of 115% required to qualify for the World Champs.  Not being happy with this I went to Southport to try to better my percentage again,  another tough one coming pretty much 4th last out of the swim I finished 7th and gained a percentage of 108% and I made it! I had qualified for the World Triathlon Championships in Cozumel, Mexico.  OMG even as I write this note I still am so proud! and I cannot thank Michelle Dillon enough for her coaching, and her guidance!
Anita Smith: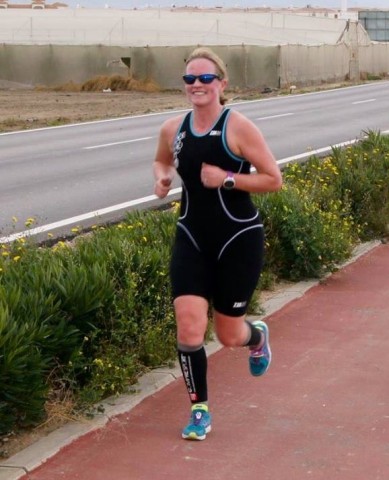 To sit here now and have achieved qualification for the Sprint Distance Triathlon World Championships in Cozumel, Mexico feels amazing. I am so excited, very much looking forward to having a fantastic race and catching up with all the amazing people who I have met at qualification races in the past and this year.
Little did I know just how hard my preparation to achieve it was going to be….
The first thing on the agenda to getting my qualification slot was to get rid of a niggling Achilles issue that refused to go despite our best efforts. Michelle recommended a physio who had helped her husband Stu Hayes to get back to full run fitness. The road back from injury is never a smooth one, this we know. It took from October 2015 until July 2016 for me to run pain free again. Even writing that has me almost in tears, it was that emotional!
To really test me mentally in November 2015 I picked up a cold which very quickly became a very nasty chest infection. Sadly, I have never been 100% free of this infection in my lungs since! January to June 2016 I spent 6 weeks on and off on antibiotics, some of them so strong they just wiped me out. I basically spent that 6 months going from picking up a virus, to taking antibiotics, then getting better for a couple of weeks, get sick again, yada yada, yada! I can't tell you how frustrating it was! Finally, in May of this year I found a GP who really understood that I needed to be healthy for longer than 2 weeks and did everything he could to help me. Thankfully I can now say that I have had the longest period of good health since January and fingers crossed it will stay that way!
In March of this year my husband and I also had to cope with the sad loss of his mother. It was a loss that came very suddenly and made a lot of things in life seem very trivial and unimportant. It also made me realise the importance of only doing things that make you happy.
I am so grateful to the way Michelle has supported me through the toughest of times this year. Even having a conversation with her was difficult at times when I developed an infection that attacked my vocal cords so I sounded like Bonnie Tyler (and not in a good way!) I always knew Michelle could give me the physical training that would make me strong enough to qualify, what I hadn't really expected was how my mental attitude to so many things would change over a year with her guidance.
For the first time ever my husband will be at a major championship with me and that makes it very special. I will be celebrating with my husband and Team GB friends after the race with one or two drinkies! We will have the opportunity to support the other Team GB athletes and elites and then we are off to Cancun for a week of snorkelling, sunbathing, eating and drinking mostly! You don't have to have the perfect lead up to your major races of the season (probably no one does anyway!) but as Michelle says you do have to have the courage to start.
Louise Croxson: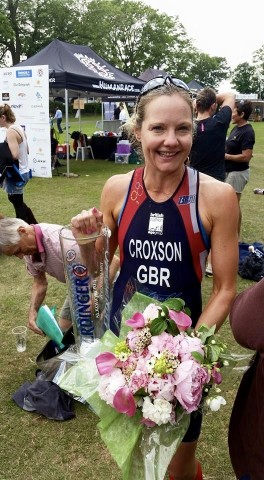 How does it feel to Qualify
Luckily I pre-qualified last August when I became British Champion in my Age Group, 40-44.  This was fantastic as I knew I was going well in advance and could plan accordingly.  It also meant I didn't have to do any qualifying events this year. I've been part of the GB AG team since 2010. It's always an honour to qualify as its so competitive in the UK and I know it may not mean much to lots of people but to be able to represent your country in Sport and have the opportunity to become a World Champion or even compete in a World Championships is amazing.
Personal Goals for the Race
Ok I'm going to put it out there – I want to medal and a Gold one would be AWESOME!!  However I really want whatever the results to be proud of how I've performed on the day, you can never control what other competitors are doing or who turns up on race day but you can make sure that you perform to the best of your abilities and leave it all out on the course.  When I came 4th at the last Worlds I competed in, I wasn't disappointed as I knew I'd done the best I could.
Prep up till now
I've been training for this event since mid January and it's been a bumpy road with highs and lows. Last year was plagued by a foot injury so I couldn't do as much running as I wanted and then At the end of 2015 I had an operation and had to have a couple of months off all training. It was tough getting back into training after that and I felt I'd lost a lot of strength and fitness. However base prep in the spring was good with consistent training week topped up with a couple of hard weeks out in Spain with TDC and a few weeks out in Mallorca training. At this point I wasn't working so finding the 20-25 hours a week to train was easy. However since May I've been working full time so that makes it more difficult to train hard and get the necessary recovery time in.
How has TDC Helped
Enormously, my coach Michelle supports, guides, and gives me expert advice which has helped me so much and I certainly wouldn't be able to even think of getting anywhere close to the podium without the support! TDC has helped me find a great physio which, touch wood, has meant I'm no longer running in pain and able to do more volume and intense running. I've had specific 1-2-1 sessions on technique with Michelle when I've needed it. TDC encourage me out at races, all my questions are answered no matter how silly, and all my concerns have been addressed whenever I've worried about my progress. My program is tailored to my training to suit my work and daily activities. I guess I'd say that my TDC coach is the most important person in my triathlon journey other than myself!
What will you do to celebrate after?
Straight after the event I will be celebrating with my friend Janice who is travelling with me and is a very dear friend and supporter.  A cocktail or two and a relax on the beach will be required whatever the result! Later in the day I hope to go to the after party organised by the race organiser.   This is often great fun with food, drinks and dancing to loosen up the race stiff legs! A few of my fellow Berkshire Tri Squad members are out competing so I hope to be partying with them.  I also now know a few other ladies from the GB Team from competing at other events so I hope to be out partying with them too! In fact there is already a facebook bet for a margretia for whoever crosses the line first! I've then got a 2 week holiday in belize, where I will be exploring the rainforest, canyoning, ziplining, caving and then spending a week scuba diving – basically doing anything but swim / bike and run and the most dangerous things possible!
On behalf of the coaches we are incredibly proud. We wish you all the best of luck and we hope you all have the best races that you have worked so hard for this season, you really deserve it. Most of all enjoy the journey and experience of a World Championship race!
Thanks for reading,
The TDC Team