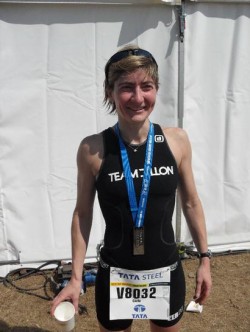 TDC were in good form this weekend at the European Triathlon championships with World Age group Champion from last year Gaelle Lebray (pictured) winning the Gold medal in her AG in spain.
This was an amazing result considering Gaelle had fallen and hurt her shoulder a few weeks ago and had not been able to train properly both on the swim and the run. Gaelle showed just how strong she is and how she can still be a threat at the World Championships again later on this year in Beijing.
Kirsty Anderson proved just how far she has come this year with a fantastic result coming away with the silver medal in the 25-29 yrs age group and only lost out on the Gold medal in the home straight. Kirsty has really improved this year and is in the best shape of her life!
Jodie Stimpson was racing at her first European senior championships. Jodie was 3rd out of the water and stayed at the front of the race for most of the bike. She pushed on well in the heat to finish a solid 10th place – not bad for a youngster who is only still 21 years old! Well done Girls you are on fire!
Dan Falconar had another solid race finishing 15th in his AG and backing up from a fantastic result last weekend in the UK 70.3. TDC are proud!