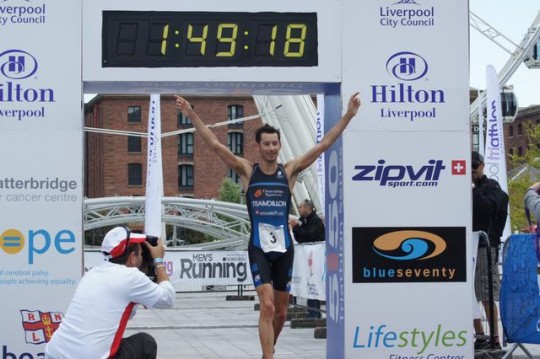 Stuart Hayes was back to winning form today after a solid win at the 5150 series race in Liverpool. After 4 weeks of solid back to back racing, Stuart won his first race of the season.
Stu lead out of the swim but it was Fraser Cartmell pushing the pace on the bike opening up a gap, however Stu managed to catch Fraser at the 3km mark on the run and pushed on to win the race comfortably from Cartmell 2nd place and Ritchie Nicolls from Scotland in 3rd place.
Zoe Morrisett raced well and pushed hard from start to finish. Zoe clocked a great time of 2.46.24 and finished 9th in her age-group and 25th women overall. Zoe is improving all the time and looking forward to racing her first 70.3 race in 4 weeks time in Antwerp!
Ian Gilham also won his age group in Liverpool which tops off a fantastic weekend of racing! Way to go Ian you are really flying at the moment!