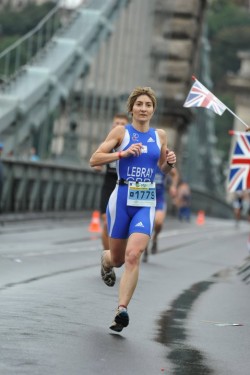 TDC athletes headed to hyde park this weekend looking for Olympic selection. There was also a big turnout of TDC age group athletes racing and supporting.
Jodie Stimpson & Kathy Tremblay were the first TDC athletes to race early on Saturday morning, both of them looking for Olympic selection from GB and Canada. Both athletes made the front pack and looked strong on the bike, staying out of trouble. Onto the run and Stimpson looked comfortable in the front pack of 6, making a small break on the field. Tremblay was further back but giving it her all and hoping to stay in touch. On the final lap of the run, Stimpson could not hold onto that top 6 and had to let go, the elastic band breaking and finishing down further than she would have liked in 14th place – a solid result though and things are improving. Tremblay on the other hand was a bit disheartened with her performance, finishing further back in 45th place.
Next up for these athletes is Beijing where they will be aiming for more qualification opportunities. The race was won by GB's Helen Jenkins so a massive congratulations to her. The Dream continues!
In the men's race, Will Clarke and Stu Hayes were in the same boat looking for a top 3 for qualification. In fact Clarke only had to back up his fantastic result from Hamburg a few weeks earlier and he would have been an automatic selection for the team. Both Hayes and Clarke swam well and were in the front pack. A break went on the bike and our guys were not in it although it was Alistair Brownlee who was in it instead. As the race continued a downpour of rain made it a cold and difficult race for some. Clarke ran solid to finish 14th but didn't make the impact he wanted on the race. Hayes finished a lot further down than expected and said it was a tough day out there. Brownlee went on to win the race with his brother Jonny in 2nd place. These guys are both looking to Beijing now where they look for strong races.
TDC Age group athlete Gaelle Lebray had a fantastic race on her comeback with injury, after another win in her age group. Gaelle is on track to defend her World Championship title that she won last year in Budapest. Watch this space. More results to follow.