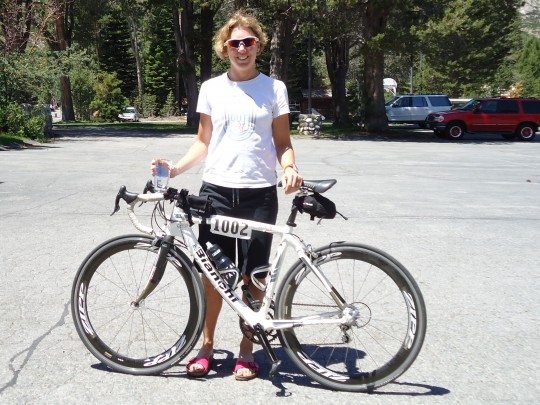 This is the inspirational story of Tay Abhyankar's recovery following a nasty accident during a race.
In May 2010, I was clipped by another rider, hit a traffic cone and fell off my bike whilst racing at an Ironman 70.3 in Florida. A couple of guys stopped, we all thought I was ok, so I changed two punctures, and finished the race in a not exactly record-breaking time of 7 hours.
Needless to say, all was not as it should be (and for the record, seek medical attention, do not continue if there is any chance you have hit your head). I had hit my head when I fell, wrecked my helmet, cracked through the carbon frame on my brand new time trial bike and was pretty ill as a result. I had herniated some of the discs in my back, concussed the balance part of my ears; and, where my brain moved forward with the impact, concussed the frontal section which deals with memory, co-ordination and processing of information.
For many months, I struggled to co-ordinate the movements of walking, bumped into things, tripped over, forgot words or sentences, felt sick whenever I moved my head, or saw a pattern on the pavement – classic symptoms of concussion which became post concussion syndrome. Not exactly ideal and needless to say, just a simple task of trying to get dressed, was absolutely exhausting.
I have worked hard to get better since then with the right medical support, and kept exercising with Michelle's help (thankfully all the doctors agreed it was really important to keep exercising). My programme consisted of building up from walking, swimming single lengths, or just sitting on the turbo for 5 mins with no resistance. Slowly, slowly to build up my tolerance, stamina and manage fatigue – and co-ordinated with PT from Mark Score at Reebok to help me work on balance and co-ordination of movement. The brain can heal itself, but needs to re-make the broken or damaged connections, so I also did three months work of specialist vestibular physiotherapy to make me re-learn to process the information from my eyes and feet so I wouldn't feel sick all the time, or keep banging into things. An unpleasant but effective process.
I kept setting myself targets (run a half marathon and marathon in the spring) but it was so evident I wouldn't be able to do them. I entered Barb's Race, the only women only half ironman race in the world for July 2011 in California and worked towards that. Michelle carried on writing my programmes, giving me really easy weeks every fifth week (which I promptly took as a complete week off!) – I couldn't do more than four weeks as my balance and co-ordination would deteriorate the more tired I got. I trained once a day, for around an hour during the week, with a long-ish ride done very slowly on the weekend, and run of no more than 90 minutes. I never (sorry Michelle!) managed to run off my long bike as I was so tired, and never ran more than 10 miles.
Notwithstanding this, I kept going, plodding on with never-ending support of family and friends, and particularly Amit, my husband who came home every night from work for 14 months to make me dinner and take care of me. He was, as he always has been, a complete star and did his first Ironman (which we were meant to do together) in July 2010. I am very determined, and in July 2011, we went to California and did everything and more than I had hoped possible. We rode 73 miles at Livestrong Davis (my longest ride by 15 miles!), did the Donner Lake triathlon (I was second in my age group in the Sprint!), I ran part of the Wharf to Wharf race in Santa Cruz, and did Barb's Race whilst Amit did the ironman distance race, the Full Vineman on the same course on the same day.
The swim was great, in the Russian River; I started at the front to try and stay out of the way and was out in 34.02. A leisurely transition and onto the bike for 56 miles (which also one of the very few times I rode on my own). I got off at the halfway aid station, took a couple of minutes – the technical course made it tiring to ride, and finished it off in 3.21. I was so happy that bit was over! But then the run – it's hot and hilly. I walked the hills, ran the flats and downhills (most!) and managed it in 2.09. I kept going, kept putting ice in my hat every mile to keep my head cool, and took strength from the other 500 women out on the course with me (and tried to not focus on any Full Vineman people who came speeding past!).
It was over, and done in 6.15.36 – astonishingly a new PB as well, helped by the faster swim and run than I have done before. I still can't believe it, 14 months after sustaining a head injury, I did it! Michelle has been wonderful and very supportive of me and the things I could and couldn't do, which were often very limiting in terms of my training. She was always checking I was ok, stopped me training too much, and was there for me all the way. Along with my husband whose constant support has been unfailing, my sister (and of course my medical support), Michelle has helped me achieve what appeared impossible.
What next? Well next year's goal is to get back on the time trial bike…….that will be enough to be going on with for now. I apparently will continue to improve for 2 years, so I look forward to whatever comes next!