Michelle Dillon took a trip across to Dubai recently to hold a training weekend with the Tri Dubai club.
It was two days of teaching run Technique and Swim technique along with some intense sessions including brick and open water swimming. The group of approximately 25 athletes at the club were very responsive and picked up the technique very quickly, we had a blast in the process and received some very positive feedback from the camp. These were just some comments that were made below.
Gary Rynhoud said "thanks so much, Michelle you where awesome. Well done to all, it was a really great weekend".
Leana Less said " Absolutely loved it!"
Carol Anderson said "loved it so much, I now can feel every muscle in my body (including the glutes!".
Roy Nasr Said "it was so hard to go back to work today ! It is a major anti climax!"
Ian Pelley Said "What a weekend for those of us who did the Team Dillon Training camp! Most people will now be slumped into their coffees at work – it was a hard weekend! Importantly, we all will have learnt a load – whether it be from the new run technique (use those glutes/ little punches!), open water swim technique (swing it round, high cadence, high elbow), stretching or glute activation exercises, or just the myriad of other tips and information that were so freely given by Michelle. Thanks a lot!
What a great opportunity and fantastic weekend, we thoroughly enjoyed it and hope to do many more.
I would like to say a big Thank You to Roy Nasar and Ian Lepelley for making this training camp possible. If you are ever in Dubai and looking for a friendly group to train with please contact Roy or Ian at Tri Dubai Club http://www.tridubai.org/ I can guarantee they will make you feel welcome and you will have a blast!
I would also like to Thank Emirates for making my trip more enjoyable travelling in Business class. I was fortunate enough to have visited the Emirates headquarters while I was in Dubai and giving an interview for their inflight radio as well as some top Triathlon tips.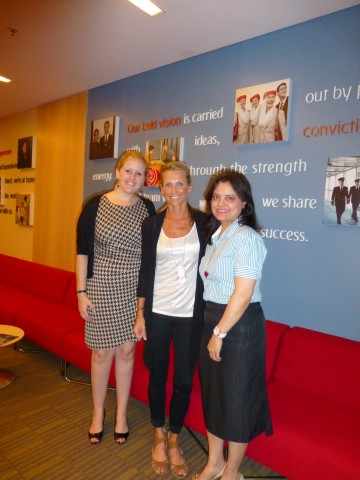 At the Emirates Headquarters above and below giving my interview for their inflight radio ICE! 🙂