Peter Longworth coached by TDC's Perry Agass is making fast progress and recently Peter raced in the Antwerp 70.3 and takes us through his experience. We are very proud of what Peter has achieved!
Antwerp 70.3 Report
This last year has been a bit of a learning experience – I entered the 2012 Hyde Park Sprint Triathlon as a friend was doing it, thinking it would be a good way to start to get fit (and a bit 'how hard can that be'??).
First thing was to learn to swim a bit better than splashing a length of a 25m pool. Six weeks of private lessons later and I was at the start of the Hyde Park Triathlon having learnt (and purchased) lots of things that previously I didn't know existed!! I finished that event and was bitten by the bug, I joined the local triathlon club and booked lots of events for 2013, including the Antwerp 70.3 (another 'how hard can that be'? moment!).
I decided that I would benefit from a structured training plan if I was to finish the Antwerp race, and generally improve my fitness, and that's when I signed up with Team Dillon's Perry Agass. Perry has helped me by not only by providing the structured training plan, but in other areas such as kit, mental preparation, race strategy, nutrition and a lot of support.
A few months and a lot of training later I found myself on a hot day in Belgium lining up for the biggest race of my life.
Swim 1.9km
Nervous does not begin to explain how I felt, I had a strategy to start towards the back so that I didn't get caught up in the 'washing machine' of swimmers. Once I had started all the nerves went, I just started what we had trained for, steady controlled swimming, I got out of the water in 41 minutes – which was better than I had hoped for.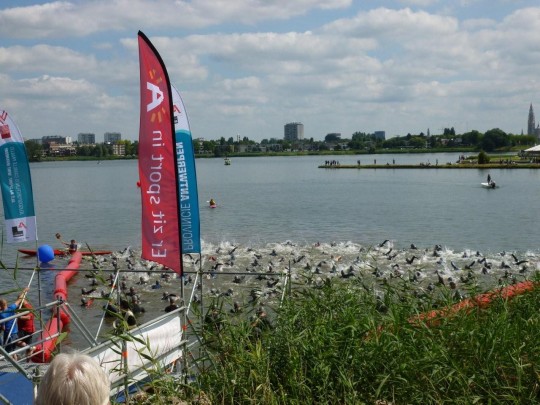 Bike 90km
Getting on the bike is the best feeling for me, it is my strongest of the three disciplines (and it means I have finished the swim!!). At first I was a little disappointed as some of the wave that had started after me had passed me on the swim, I had to remind myself I wasn't racing them, this was about lasting the distance and finishing the race. The bike route is flat with the exception of a few railway bridges, out of the town and three 20km laps of the port. All the long turbo sessions made sense as there was no rest for the 2hrs51min of cycling. Again this was a better time than I was hoping for, I was smiling as I entered transition 2.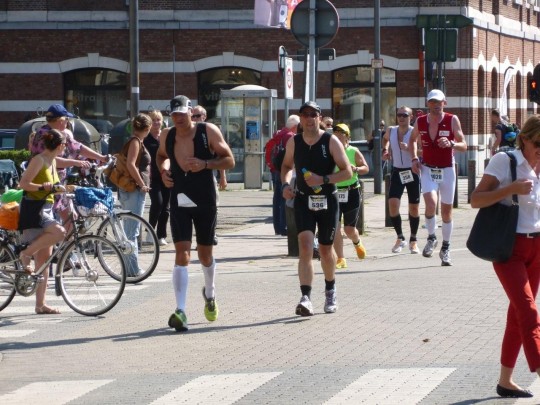 Run 21km
The run is 3 laps through the town, the route was lined with spectators and it was hot! I was feeling strong and was looking forward to getting to finishing. The first lap I felt great, only two more to go … then I got a twinge of cramp in my leg, this was then the theme for the next two laps. I set myself the goal of running between each feed station and then walking/stretching out my legs through the feed station. This broke the route up a bit and after two and half hours I finished. What a feeling, in a year coming from a very low level of fitness, not being able to swim I had just completed my first 70.3 race!!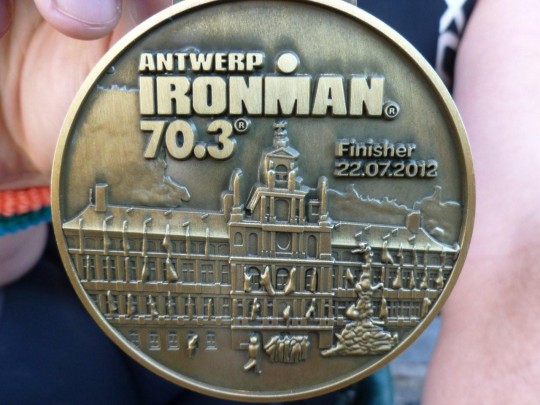 Thanks to Perry & TDC for helping to get me across the line … and to answer my own question 'how hard can it be'? It was a bit harder than I thought, but far more enjoyable than I imagined it could be … and I am already signing up for the next ones!
Pete Longworth!