Its exactly a year to this day Aug 7th when I lined up in Hyde Park as an Olympian.
I will never forget that special day, it was certainly something Al and Johnny can cherish for the rest of their lives, Gold and Bronze for the boys and to have been part of that special moment having contributed to their success even if it was in a small way makes me feel really proud! So I thought since I was posting this blog today I would post a picture that brings back all the emotion and memories for me.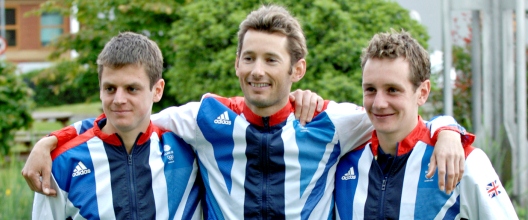 Now we are a year on I am excited about the rest of this season, so far its been one of the better seasons I have had in a long time. If you read back on my last two blogs you will see the history of my injury problems and twisted pelvis etc, thankfully I have moved on from there and had a great domestic season with a 2nd Place at Windsor Triathlon and 2nd place at London Triathlon a few weekends ago. To my surprise I even managed to finish 2nd overall in the British Super series, which is accumulated from points over three races. As I only managed to race two of them it was a real bonus to finish 2nd to Tom Bishop!
So back to my racing, since Windsor I have been to the US for a short trip and back home again. I raced the Life Time Fitness Triathlon in Minneapolis which was almost cancelled due to extreme weather conditions. It came from absolutely nowhere on race morning and hit the Triathlon hard. Some how the race organisers managed to avoid all the flooded roads and changed the course but also shortened the race to a sprint.
Thankfully we still got to race, it would have been disappointing to have travelled all that way and not been able to race, so everyone was happy when they announced the race was still on. Im not sure if the sprint really suited me however I gave it my best and was pretty happy to come away with 3rd place behind Cameron Dye and Hunter Kemper. I still felt like my form is coming back and each race seems to be getting better.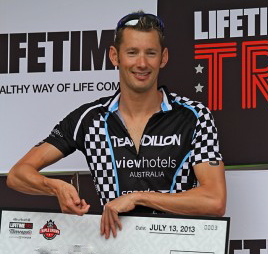 Then a few weeks later I was lining up at the London Triathlon, my first ever London triathlon was back in the late 90s, back then it was all about the Speedos and crop tops and Im sure it will be back as fashion goes around in circles. I have been doing this race for around 15 years and have only ever missed one.  I definatley have the record for the elite that has raced the most London Tri's, I may have the overall record!!
I went into the race knowing that with my current run form I was the 3rd fastest runner which meant  something had to happen during the swim or the bike if I was to win. So after the swim I was very surprised to see Greg Rouault and Mark Buckingham in the lead pack on the bike, so I knew I would need to do something on the bike if I had a chance at Winning.
We had a group of 10 out of the water working well together and had a good lead on the chasing pack.  After around 25k I knew it was time to try and get away in the hope that I would get a big enough lead to win the race.  After many attempts the elastic band broke and I got a 30sec lead with Dan Halworth, this was very exciting because I knew my running had improved and maybe I could hold them off.  After one lap of the run Greg had caught up to me and Mark Buckingham was just behind him.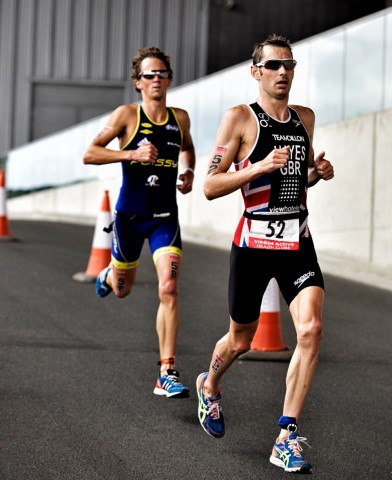 I could see they were both hurting and knew if I kept the pressure on I could hold onto second place, which I did with Greg Winning and Buckingham in 3rd. (Photo Credits for London Triathlon pics Alex Beer)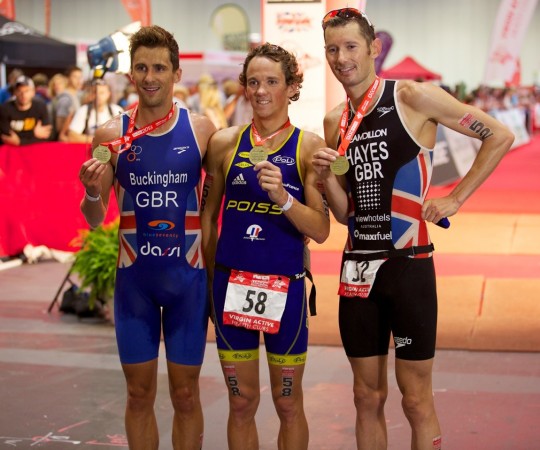 My next race is Lifetime fitness Chicago triathlon and the following week Hyvee tri in Des Moines Iowa.  Im then off to Arizona to train with my friend TJ Tollakson, he will be preparing for the Hawaii Ironman and I will be training for my last couple of Life time races.
I also want to mention my training partner Emma Pallant who is so new to this sport a massive well done for winning the British Super series in her first season, lots to come from this very talented athlete.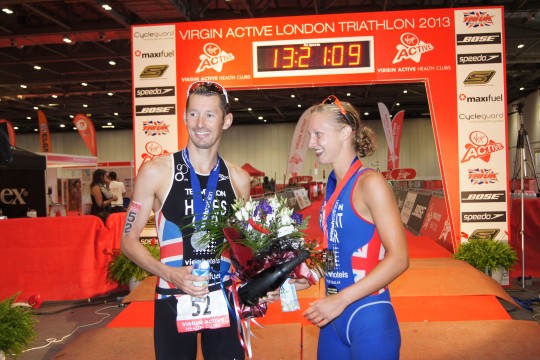 Finally I want to say Good luck to everyone who is reading this blog and qualified for World Championships in London, I will be sad to miss it this year after the Olympic Games last year but need to carry on with my goals and season this year in the US. I hope everyone achieves their goals and much more.
Best Wishes
Stu