We had some fantastic results this weekend with TDC athletes Ben Findlay and Peter Stock racing at different venues but both share the same TDC coach in Perry Agass!
Ben Findlay has been under his new coach Perry Agass for a short period of time, with the excitement of being part of a new team Ben lined up at the Fritton Lake Duathlon and finished 3rd overall in a time of 52.31. It was a strong field where the top two guys were Pro athletes, However Ben clocked the fastest Bike split of the day, and was pleased to be so competitive against such strong company.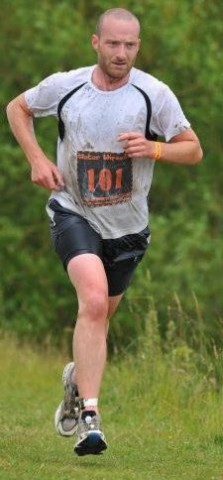 Ben wrote a race report for us below.
After a week of indecision as to which bike to use for this race, I finally chose my cyclo-cross bike as the course looked non-technical and mainly dry.   Following registration I took my bike over to transition and found I had all my favoured places near "Bike Exit" to have been taken, so I had to settle for somewhere in the middle.  I racked my bike, feeling confident and I really wanted to give my new coach from Team Dillon (Perry) an idea of my current form.  I had opted for more layers as I thought the day would still be chillyand half a bottle of energy drink plus a gel to take on the bike.  After a short warm-up, I was ready.  I knew that once we were off I would be able to tell if I had a chance of winning or a top three place.
The horn went and, as usual, it took me a few hundred meters to slow myself down a little to a reasonable pace, finding myself in 4th position.  I could see that the two guys at the front already had a good lead and I thought that I would have no chance of keeping up with them on the run, but I would see what I could do on the bike.  I kept tabs on the two leaders trying to assess how much of a lead they had and therefore how much time I would have to be in front of them at the end of the bike to have a chance of winning.  I was now in 5th place, running with the guy in 4thposition and just a few meters behind the 3rd place competitor, whom I'd decided wasn't much of a threat as he was a junior and looked like a runner.
Entering T1 I was still in 5thplace, but still only a few seconds behind 3rdplace, and about a minute behind the leading two competitors.  I overtook the 3rd and 4thplace competitors just out of T1 and set about catching 2nd place.  I was feeling really good after 5 minutes and had recovered from the run.  I could see 2nd who was trailing 1st by 30 seconds.  I pushed hard and at the end of the first lap I had caught 2ndplace and rode with him for a while to recover.  I waited for the small road section, as I knew I'd be quicker on this surface, and left him behind, in pursuit of 1st place.  I was catching him slowly but now realised that I wouldn't be able to put enough time into 1st to win but I wanted to catch him all the same.  Coming into T2 I was just under 10 seconds behind 1st.  I whipped through T2 as fast as I could, with 1stplace in my sights but I knew that I could not catch him and wondered how long it would be before the guy behind passed me, as he had been a stronger runner on the 1st run section.  I managed to hold on to 2ndplace until almost lap 2 of the run and when he passed me I tried as much as I could to stay with him but it was impossible, I had to settle for 3rd.  I ran the last lap as fast I could, I daren't look back in case there was no one there as I would have slowed down.  I crossed the line having managed a short sprint finish and welcomed a drink of water.
I was pleased with my result after learning that both the guys that beat me are Elite triathletes.  Since I have been focusing on long runs due to my VLM entry this year, and not doing any speed work, I think I could have gone a little faster on the runs and I should not have worn as much clothing, as I was a little over heated during the race.
Results Below:
Fritton Lake Duathlon Overall Results Feb 26 2012

Pos
Name

Age

R1 Time

R1 Rnk

T1 Time

T1 Rnk

Bike Time

Bike Rnk

T2 Time

T2 Rnk

R2 Time

R2 Rnk

Total Time

1

Iain Robertson

36

11:14.5

1

00:18.2

1

27:00.5

2

00:13.8

2

11:59.7

1

50:46.9

2

Matt Ellis

34

11:16.0

2

00:35.2

39

27:07.2

3

00:25.8

29

12:24.4

2

51:48.8

3

Ben Findlay

37

12:01.2

5

00:29.8

26

26:11.6

1

00:20.3

11

13:27.8

6

52:31.0

4

Mark Drake

42

12:23.1

7

00:23.0

5

29:26.7

4

00:14.1

3

13:48.6

7

56:15.6
Peter Stock competed in a local Duathlon race organised by Woodford Runners and successfully won his age group over 55+. Peter completed the 5km Run/15km bike/5km run in a time of 1 hour 14mins! Well done Peter and Ben a fantastic weekend of racing, Best wishes for the next one.