Team Dillon athlete Michael Kontaratos has come along way in a short time, he has been training will Jill Parker and explains in his own words his recent success at the Ball Buster event just last weekend.
My Race
Going into the race, I did not have any specific plans. I was actually nervous that I would not be able to make the cut off time (3 hours for the 1st run and cycle). So decided to start the race at my own steady pace and see where it will take me. 40 minutes into the race I realised that I would be able to complete the run at around 1 hour so I got comfortable that I would be able to get within the cut off time. I did not rush the transition because a) I had never done one before and b) it's better to take 20 seconds more and not forget anything! I used the first lap on the bike to familiarise myself with the course and the turns and also check how much time it would take me to complete the lap. Then during the second and third lap I simply focused on finding a steady rhythm. Second transition – made sure to grab something to eat and drink and off we go. Concentrated on maintaining the same pace as the first run and kept some energy for the last uphill. I was surprised to see how many people I overtook during that uphill (both in the run and cycle). After 3:30 hours crossed the finish line!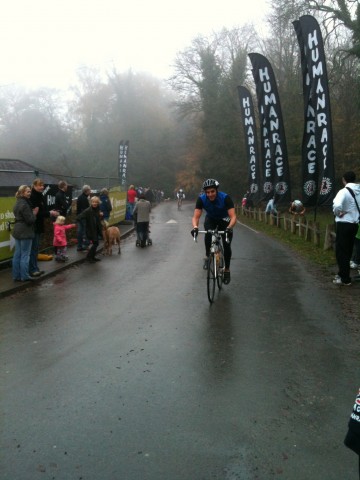 My Training
Jill has been an amazing coach and has been instrumental in my training. There are so many things that I could say here – three things I have found most helpful:
–          Every month is broken into weeks and every week is broken into specific sessions. The only thing I need to focus on is my next session. If anyone had told me that I would be running 16 miles and cycling 24miles within 3 months I would probably laugh at them. Three months ago I had never ridden a road bike (on my first outing I had to ask someone how to change gears and I also fell while trying to clip on my shoes) and could only run 30-40 minutes. With Jill we took one session at a time and gradually started adding on. Gradually riding a bike becomes more natural and then cycling for 1 hour does not feel as bad and then increasing the pace can actually be fun….I know my aim is to complete the Ironman in July 2012. Still a daunting task. But I am not thinking about that – I am just thinking of my next session tomorrow morning.
–          Jill has focused a lot on improving my technique and pace. She has given me advice and specific exercises on improving my swimming technique and becoming more efficient in the water and has made me realise that my initial "agricultural" style of cycling may not be the most effective one when it comes to long distances. She is an endless source of advice and always finds a way to teach me new things and make understand how certain things should be done.
–          She is an amazing motivator. She is a mentor, a big brother, your worst enemy and at the same time your biggest ally. You think of her when the alarm clock goes off and you have to get up. You know that every time you have a session the split times are compared against your split times of last week and the week before that (and your pride kicks in). You hate her when she asks you to push yourself to the limit (yes – I did sent her hate e-mails!). But then you wake up one morning and suddenly you are asked to run 16 miles and you can do that. You time yourself and realise that you have improved your 5k run time by 1 minute. You are so happy when she tells you how much you have improved over the last months and she reminds you where you where 3 months ago. I see my training as a 9 month journey and nobody can complete a journey by himself. You need someone to help you along the process, and that is what Jill is doing!