Mandy Border joined forces with her new coach Michelle Dillon five months ago, here she writes a blog about her journey before signing up with Team Dillon, her goals for the 2014 season and the progression currently being made in her training.
I could, and I still can think of nothing that bores me to tears more than running round a 26.2 mile marathon course, with crowds of other people sweating & puffing beside me, and with ears that just won't hold earphones comfortably leaving me without music to break the tedium or hold a pace to. So when a friend asked if I wanted to do the Brighton race with them, I said yes instantly! I find it difficult to say no to any race, no matter what it is – bring on the sweating and puffing!
I'm not a run novice; I've done 5 & 10km races, 10mile cross-country, road races and triathlons before all with fairly decent times, so I thought my running was in pretty good shape.
From this I got the idea into my head that I wanted a sub 4 hour marathon time. It seemed reasonable. I even had naughty little thoughts of 3 hours 30 minutes – you know… just in case the wind was blowing in the right direction. A hurricane wind, obviously, but with our unpredictable weather you just never know!
For 4 months I was in training heaven, with everything going to plan until it suddenly wasn't, and I mean it really wasn't! A 3rd of the way round a 19 mile training loop my legs decided they didn't want to move anymore, they were ceasing up painfully. I have never given up on a run before, so on I went… and with the pain getting worse my chest started heaving up dry sobs. I was starting to panic. What was going on?! I've hit the wall, of course that was it! It would be fine. I'd just miss-judged a training run, that was all. Except I hadn't, my run technique was way off, which meant I could get away with toe-y over-striding for distances under 10 miles, but put them through the marathon mill and those hamstrings were barking at me like a couple of under fed puppies. A physio appointment or two later (lovely man by the way, caused me severe trauma getting the knotts out of my legs, but eventually sorted it) had me diagnosed with hamstring tendonopathy; a swelling of the joint where the three hamstring muscles meet the posterior. A real pain in the ass!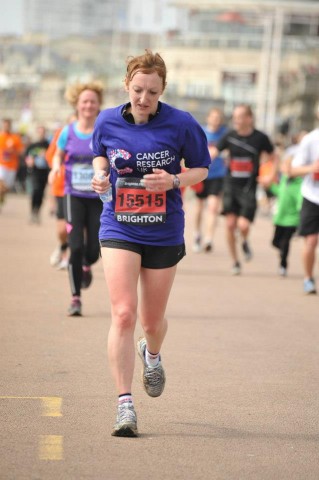 But I still had the marathon to do, right? Right! "Just get me through the race", I told my physio. I was massaged and physio taped up to my eyeballs on race day, and never has 26.2 miles felt so long. I eventually finished in 4 hours 15 minutes – which wasn't bad considering – but could not walk, sit or bend over afterwards. I was a mess. It took 6 months of physio after that to get me out jogging again (my physio has a lovely house extension now, which I am pretty sure was funded by his marathon runner clients!). But I hated it; the problem was still there every time I ran because my technique wasn't correct. It was hindering my stride and it was painful, although the condition had calmed down somewhat.
So after shocking triathlon results for the latter part of the year I decided to look for help. Pete Longworth (a friend and, unknown to me at the time, Team Dillon athlete) pointed me in Michelle's direction. Never has anyone given better advice! Michelle Dillon… OK then… Familiar name that… Took me a couple of emails back and forth for it to suddenly click – I was going to be taught running by a World Champ and Olympian! Whoopa! First time of meeting her was not what I expected at all; Michelle is down to earth, kind, patient, supremely knowledgeable, and she'd had the same, and other worse injuries herself and overcome it by studying technique over the years. My run was deconstructed to the bare basics then reconstructed again with the proper form. I was shown how to fire up the big, powerful glute muscles so as to not overload the hamstrings, quads and calves, and how to hold my torso when I ran.
A month later I was running a minute quicker than I had 3 years earlier when I'd run a 10km PB, and with no pain in my legs whatsoever. To say I was amazed is an understatement. A couple more run sessions in the bag and I began asking for swim tips too. And so on to being a full member of Team Dillon because I just could not pass up the opportunity. It is quite unreal; I am an average age-group triathlete who competes in local tri races and I am having training plans written, specific to me, by someone who trains elite athletes to podium wins, and they're so meticulous that I can practically smell the PBs rolling off the paper into my lap. It's ridiculous to think a few months ago my legs could barely move into a jog and now I'm trying desperately to hold down 15km/h on a treadmill for minutes on end in an attempt at that elusive sub 20min 5km, and my swimming well, I am going to go for a non-wetsuit sub 7 minute 400m in my next triathlon race, and I know I'll be able to do it.
This is what Team Dillon is all about… Everyone's goals are given the time and help they deserve, doesn't matter what ability you are.. Thanks Michelle! 🙂