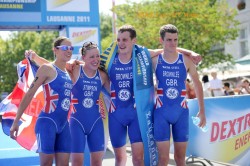 Great Britain's 'dream team' lived up the pressure and expectation to deliver gold in the ITU Team Triathlon World Championships in Lausanne. The team of Jodie Stimpson,Jonathan Brownlee, Helen Jenkins and Alistair Brownlee won gold in dominant fashion to take the world title and help showcase the event that triathlon hopes will be included in the 2016 Olympic Games.
Britain's win added to the already successful weekend that has seen Jonathan Brownlee crowned ITU Sprint world champion and both Alistair Brownlee and Helen Jenkins rise up the world rankings to the number one spots.
With such a strong team, Great Britain's quartet had the pressure heaped onto them, despite the fact that they had never raced as a team before.
Jodie Stimpson had the challenge of leading the team off, and had over 200m of extra swimming to do as the first leg was made longer to enable to athletes to spread out more. She completed a 500m swim, 5km bike ride and 1500m run before handing over to Jonathan Brownlee, who powered through the swim to pull the team up to the bronze medal position.
Jonathan then used his run speed to put the team into a lead that was brilliantly maintained and extended by Helen Jenkins and Alistair Brownlee.
Alistair Brownlee said: "I think this was the best team we could have had on the day. As we showed today we were fantastic, and really worked well as a team."
Jonathan Brownlee felt he had an easier day than his elder brother and Helen Jenkins by doing the second leg. He said: "In one way my race was the easy one because these guys had to stay away, which is a lot harder than chasing. I had a ten second gap to catch up, which wasn't much. They had the pressure on them to keep that gap."
He added: "It's great to be part of a team. We all really enjoyed it."
Jodie Stimpson, 22 from Birmingham, was delighted with gold: "It's absolutely great, it's my first world title and to be on a team with these guys is awesome. They're super fast, they're the world's best."
Helen Jenkins is fully supportive of the relay format being included in the 2016 Olympic games, a decision on that will be made in 2013. She said: "Being part of a team makes you push a bit harder because you don't want to let your team mates down.
"It's pretty exciting for the crowd to watch and it would be great for triathlon to have another discipline."
Great Britain's winning team finished in 1hour 09:29 with home team and defending champions, Switzerland in second. Germany took the bronze medals.