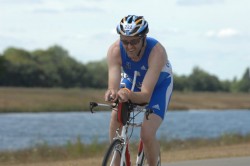 Ian Gilham is one athlete that is going from strength to strength, coached by TD Coach Jill Parker, they have been working really well together and the results are starting to pay off.
Ian raced well again this weekend in Oslo over the sprint distance recording another Age-Group win and a time of 1.20.54, Ian also finished a fantastic 14th overall. Ian now focuses his attention on the World Championships in Beijing where he is going into this race confident and im sure has his sights set high. We wish him every bit of luck, have a fantastic race and come back with a smile on your face knowing you gave it 100%. Race hard!!
In other races this weekend Christy Mckee and Zoe Morrisett were racing over the half ironman distance in Germany. Christy had a strong swim to come out with the top 5 women, riding strong but suffered with lack of nutrition after dropping her only bar on the bike, this showed during the run where Christy started to fall back. However finished well in a time of 6 hours. Zoe was going into this race with something to prove after having nutritional problems in her first 70.3 only 5 weeks previously. Zoe swam well and felt like she had a good bike and it was always going to be tough on the run in the rain but managed to maintain a good rhythm and this time finish strong in a time just over 7 hours. This was another good learning experience for the TDC girls and they will be looking for even better performances next time. Well done team !!!