TDC athlete Jimmy Seear talks about his last race in Klangenfurt 5150 a few weeks ago, ahead of this weekend's race in Liverpool.
I am writing my recollection from the weekend while I fly high over the English Chanel on my way back to the UK. The next few weeks are my next training block leading into the Liverpool triathlon at the start of July. I competed in Klagenfurt, Austria over the weekend. I have always enjoyed racing in Austria with friendly people and stunning scenery. It was my first time to the city and it is a great memory to keep. My sister Maxine and I had an amazing home stay.  We were a couple blocks from the centre of town and was a nice to walk into the centre and see the colourful city.
The race was down in the Worsee??? Lake with its magical bluey green colour. It looks like a picture book with mountains for backdrop. It is a unique course where we swim the last 800 meters down a 3-meter wide canal. I felt good leading into the race and was excited to race with close friend Josh Amberger. Josh finished 3rd the year before was much stronger this year and was race favourite. When I race with Josh it works well as we both swim fast and push the pace on the bike. We have had many great results together. The field had a lot of unknowen entities. There were athletes racing who normally race the ITU drafting style trying their luck in Klagenfurt non drafting 5150.
It was my first race where the elite males and female start together. It was a strange situation to have girls trying to muscle in between the guys on the start line. You don't want to hit them or effect their race so it is a little hard to judge on how you start. Luckily the girls didn't start between Josh, Bertran Billard who won the previous year and myself. The start was disorganised but we were off and it was fast for the first 100 meters then settled down. I found myself sitting 3rd right behind Josh and another athlete who were sitting side by side. I decided to follow them and conserve as much energy as possible. I was also sweeping the feet which is used more in cycling than open water swimming. I would swerve a little to put the athletes behind me off trying to swim up next to me. I like to swim with my own space and not have a fight in the water with tangled arms.
We entered the canal with Josh still sitting side by side with the other athlete and I was 3rd with a large group forming off my feet. I was feeling the swim pace was comfortable but I didn't want a big group to exit the water together. A short way down the canal I felt the swimmers behind start to push up and this is also because you can gain a big drag from the swimmers in front. I decided to swim around the front 2 and lead. I pushed the pace for about 150 meters then settled back to a solid tempo controlling the heart rate again. There was a lead paddle board that I was able to follow and get sucked along by a little. I looked back and could see I had cause the large group to shatter into individual athletes. This is good as it meant everyone was having to swim hard just to keep up. I had josh on my feet so I was happy knowing he was there. I exited the water first with a small gap and josh. I ran to my bike and stripped of my Speedo wetsuit and grabbed my Cervelo P4 with brand new Shimano PRO disc wheel.
At the last few races it felt like I was missing out on top end not having a disc wheel so Shimano was kind enough to organise one for me and it made my bike look awesome. I can't forget to mention the nice sound the disc wheel makes with every pedal stroke getting exaggerated through it like a drum.
The bike was a 2 lap course winding its way over the beautiful landscape of Klagenfurt like a snake. I was by myself for the first couple kilometres until Josh joined me. We pushed on and I tried to work with Josh but he has been doing some serious trainng over the last few weeks and had some huge power up the climbs. I was able to hold onto him up the climbs on the first half of the first lap. I was hanging and knew I was going to be stronger on the second lap. I wanted to push the early stage of the bike and see how my legs responded. I did a course recon the day before the race to look at the decent. Unfortunaltly Josh knew the decent better than I did and was able to open a gap over me down the fast decent. I was nudging over 70 km/h and there was gaps in the trees were I would get a little cross wind every now and then. It made for an exillerating decent back down to the lake. I tried to push hard on the fast flat section to finish the lap off but my legs were heavy and struggling after trying to hold onto Josh. He quickly disappeared out of sight on the windy road. My legs were heavy and I knew I needed to get a Shotz gel into me and build up the power again. I went through the 20km mark and had a time split back to the next athlete of 1.20. I was happy with the gap and kept pushing. I rode up the climbs better second time around and started to feel the power creep back up. On the second lap there was age group athletes making their way around the course for their first time. It was nice to have other people on the road so you don't feel completely alone out there.
I went down the decent better second time around and was feeling good for the run. I hit the flat fast section and was starting to think about the run. There was a small hill before peeling off the course and heading back to transition. As I crested the hill I got over taken by a group of 5 athletes sitting much closer than what was legal. It was a shock to see them and I lost my focus. I looked around to see where the Motorbike was to marshall the group and there was not one. I was a bit upset at the turn of events but I knew that even tho they were in a group they still had to ride hard just to catch me.
I decided to try forget about it and refocus on the run. I jumped off the bike in 3rd and quickly swapped the P4 for my shoes. I ran out and was first out of the transition. Josh had a 1.20 gap on us and I knew it was a big ask for anyone to run that margin down. After the first 2 km I could tell my legs did not feel like running. I know that I run better in the second half of the 10km so I tried to relax and sit on the back of the pack. We got passed by Ruidi?? Wilde?? a swiss athlete heading to London for the Olympics. He was running very fast and nobody tried to go with him. The group had formed on the run of A Russian, Bertran and myself. We got caught at the 4 km mark by training partner Clarke Ellice and he was running well. He also sailed by the group. It seemed like those boys had fresher runs legs than the group of 3 I was with. I was breathing heavy like a chain smoker and was struggling away. I was sending messages to my legs to go faster but I think the message was going to someone else's legs. As we rounded the turn for the first of 2 laps the group started to split. I was sitting in 6th place and there was not a big gap between the top 7. We hit the far turn around and it seemed the top 7 was evenly spaced. Unfortunately Josh got caught by Ruidi???.  I finished off in 6th place and was absolutely spent. I gave it everything out there and unfortunalty it didn't go my way.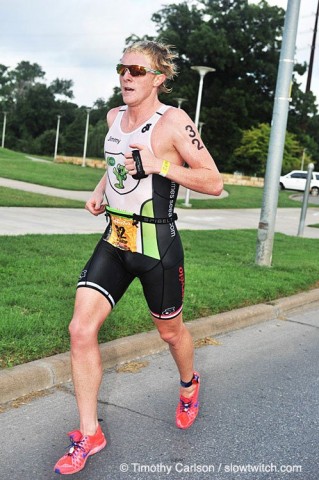 I think this year seems to be a big learning year for me. I am still happy to be consistent with 6th but I am just hanging to finally crack it to get onto the podium. It was a great course in Klagenfurt and the organising team did a great job. I am excited to get a couple weeks of hard training in now before Liverpool 5150. It will also be the last race before the cut off for the point to qualify for Des Monies.
I am enjoying the training in Loughborough and I look forward to catching up with my parents who arrive in England shortly.
Jimmy