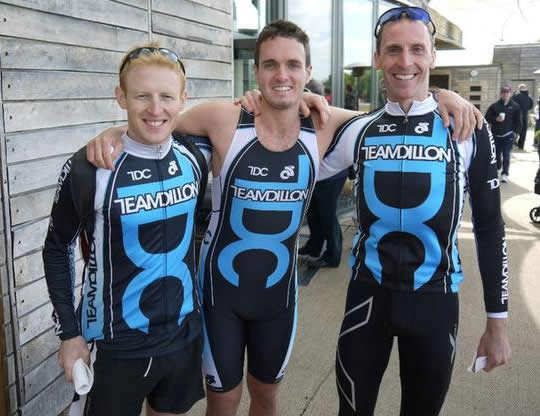 What a fantastic weekend of racing again by Team Dillon with results pouring in from all over Europe.
First up at the Eton Sprint this weekend Victoria Gill continued her winning ways with another dominant performance in windy conditions. Vicky is looking to race over the longer distances later on this year and is using these races in her lead up. Andy Shaw was finishing fast and managed a fantastic 2nd place in his age group only being beaten by 5sec to the eventual winner.
Ian Gilham had an amazing day out there finishing 4th in his AG and qualifying for Bejing World Champs in September. Ian said Jill Parker his coach is doing an amazing job with him. Good team work! Mark Butler also pushed out a very strong race finishing 7th in his AG and in a time of  1.11.48. Mark said it was tough conditions out there on the bike but was really happy with his swim and run. Dan Falconar had another solid race finishing 10th place in his age group and only 2mins behind the leader making it a close and competitive race. Dan also rode the 2nd fastest bike split of the day. Well done!  Amy Middleton also raced just waiting on the confirmation of their results.
To the National Sprint championships and Jodie Stimpson put in another great performance with a 3rd place behind Helen Jenkins and up and coming youngster Lucy Hall. Jodie now looks to race in Madrid in 2 weeks time. Chris Hayward had spent the winter with Team Dillon in Oz training and was having his first experience as an elite. Chris came out in touch with the field but struggled to get his wetsuit off putting him further back than he would have liked. Chris caught up in the bike and managed to finish the race. Great experience for this youngster.
Will Clarke finished a strong 8thplace behind some of the best guys in the world  Including the Brownlee brothers and Gomez at the French GP. A great effort after a big block of training. Next up is Madrid for Clarkey.
Ben Webeck had to battle against one of the toughest competitors today "The Wind" in the Swashbuckler Half IM. Ben finished 6th overall and 2nd in his AG to clock a time of 4.13. Another great effort from this rising star!
Well done to another great weekend for Team Dillon athletes. Rocking!