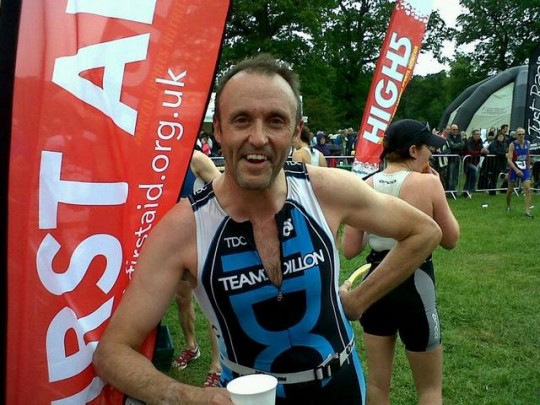 Team Dillon athlete Ian Gilham has recently won his age group at the Dorney Duathlon. Ian takes us through his race in his own words. Well done Ian.
After a late change of plan I was forced to bring forward my planned Duathlon at Dorney by a week (Luckily there are races there most weekends this time of year). Not perfect planning as I was coming off a pretty heavy week of both work and training but the weather forecast was good so decided to enter and see how it went! 
Race day was cool but sunny – registered (timing chips strapped to a finger which must be pushed into a hole in an electronic box when entering and leaving transition – a first for me and a little bit weird!). Quick jog, warm up, stretch and we're off.
Got to the front at the start which means no crowd to fight through but brings the slightly negative feeling of people running past and away from you early on – quick look at the first turn and see that there are plenty of runners behind me – phew! Good first run and into T1 in 21.33 for a good transition and then out on the bike. Quickly passed a few of the faster runners and into a rhythm for 6 flat laps. Got into a race with another competitor on the bike – left him on the straights but he seemed to hang in and pass me on the corners (mental note – practice corners before qualifiers in May!). We raced each other for pretty much the entire bike coming in at 34.07 for the 20K.
Overall felt strong on the bike and into T2 exiting a few meters behind my bike nemesis – Grrrrrrrr. After a few deep breaths and a quick kick managed to leave him behind and set into the task of running down a few more runners. Felt strong at the finish and even managed to overtake a few distinctly younger looking runners before the sprint finish, which ended in a quick stop and sticking a finger into the magic hole to stop the clock – odd!
Second run time of 22.15 with an overall time of 1.18 and an age group win – always nice in April!