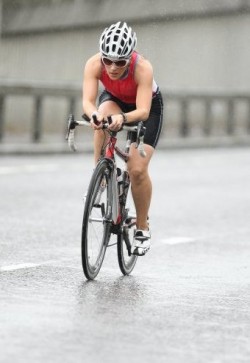 So what does it feel like to work full-time yet have the burning dersire to be the best triathlete you can be?
Meet Amy Middleton an athlete who pushes herself to the limit week in week out and is one of the most dedicated women to triathlon I know. Amy holds down a full time job but loves to challenge herself with races like Abi Dhabi, which starts off with a 1.5km swim followed by 100km on the bike, and finishes with a 10km run – and this is for the short distance event! Amy tells us about her race from start to finish! 
RACE DAY
….the day started with a 4am alarm call – well to be precise it was actually 3:50am. One can only assume the "hotel-wake-up-people" work in a slightly different time zone…
– a rather nervous breakfast of scrambled eggs on toast and coffee ensued and then the treck to Transition 1 and the swim start.
– lots of faffing around later, we start the swim. No one told me that the water was going to be blinken freezing!! Wetsuits were optional and being as mine was safely in my cupboard back in london, I opted for no wet suit…
– after some temperature-getting-used-to, all was fine and I was glad not to have the restriction of all that rubber!!
(no jokes please)
– overtook lots of guys (always enjoy that) and exited the water in fine form – apart from having about 10 tons of sea salt on my skin!
– had minor amnesia and forget precise location of bike; memory soon returned though and after what seemed like a 1k run before being able to mount the bike, I was off on my way.
– plan of action was first gel after 20mins; however these 20 mins seemed to take a rather long time and it was only after 35mins that I realised I'd got the distance setting on my bike computer displayed and not time! Note to self: never use new equipment in a race! Lol!
– time and nutrition sorted; 40k of horrible headwind, desert and 30 degrees heat was upon us. Not to mention some cramping in my left leg. Needless to say, this was a low point for middleton. All the doubts and questions were being voiced loudly in my head…
– saving grace was the yaz marina F1 circuit. As soon as I got on there I was akin to sonic the hedgehog going over a turbo booster (sega mega drive game for anyone who is confused)
– awesome experience, you could see the tyre tracks and everything. Amazing to think the likes of hamilton, alonso and weber have raced around there!!! I think got a little carried away with all these thoughts (think it was dreaming about mark weber that did it) and a dodgy gear change later and amy had to stop and put the chain back on! Doh!
Note to self: don't wear light blue shorts and a white vest when you have to put chains back on – no where to wipe my hands! Lol!!
– needless to say, the F1 track gave me a buzz; as did the 1litre of cold water I threw on my head at the feeding station outside the circuit – middleton was off like a rocket!!
– I felt good and pushed hard; over taking loads of guys on my way!!
Note to self: pay more attention to the faces of the guys you pass – it's a picture! Especially when you give them the look "letting a girl overtake you eh??"
– by this point the temperature is raising, as is the wind. How is it possible to have headwind on both ways on an out-and-back course??? I will have to google that…
– after 3hr 20 on the bike, it was time to dismount and get running; although prior to that it was another marathon-esque run with the bike to Transition 2  (what is it with abu dhabi? Why do they like to make you run with your bike so far? Is this the new 4th discipline or something??)
– once the trainers were on, that's when the heat really hits you! 35 degrees by this point and no shade at all on the run course….
– learned very quickly that pouring c400 litres of cold water on your head at each feed station and stuffing enough wet sponges down your top to make dolly parton jealous, makes for being "cool" for the grand sum of about 3 mins – but 3 mins every 10 mins isn't as bad as zero mins!
– I never realised that 10k could seem so far when you're hot and just want to lie down…..I just kept think about those wet sponges (and no that isn't a euphemism!)
– eventually the finish line arrived, well actually the final red carpet arrived (indicating the last bit) and people start cheering. At this point, no matter how you feel, you start to pick up the pace, including me..
…Unfortunately little did I realise that the "red carpet" went on forever (well about 200m) and I kinda realised I'd picked up the pace too much to sustain. Decision time: slow down and face the shame of the people in the crowd; or continue at break neck speed and risk throwing up or collapsing (or both) before crossing the line – I chose the latter and, thankfully, the finish line appeared just in time!!! Phew!!! Note to self, make sure you know how far the finish line is BEFORE putting on the final sprint!
– race finished in just over 4 hours!! Not quite the 3hr 30 I was hoping for, BUT a very pleasing race given the heat and it being my first time doing that distance (not to mention the well-time chest infection and me still coughing like a smoker!!)
– oh, well I'm exhausted not only from the race but from all this typing too! Going to have a lie down and maybe a little snooze. Will update you tomorrow and all my aches and pains 🙂
Thank you to my coach Mish for her support – you've been awesome!!