Emma Pallant proved that she is one of the fastest half iron women on the planet this year when she crossed the line in 2nd place to take the silver medal behind the dominant Daniela Ryf. Emma has only moved up to the 70.3 distance 1.5 years ago and only been in the sport just over 5 years, so still only a baby and still learning about the in's and outs of the sport but most importantly where her potential lies.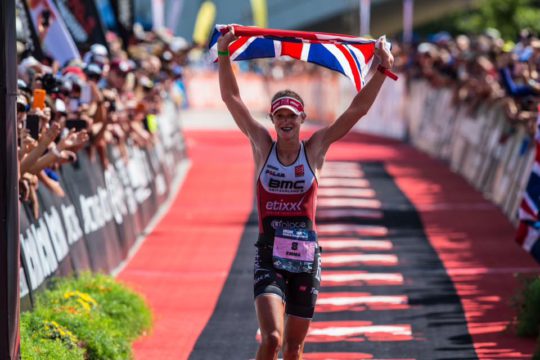 It was the A race of Emma's season, its rare that you get a smooth lead up and this for sure wasn't one of those. There were certainly some challenges to overcome,  a virus had hit 3 weeks prior to the race, once we got this under control training could resume as normal. The World Duathlon fell exactly 3 weeks before this race and we knew it would be great preparation on a tough course, however with this virus things didn't go as smoothly and although Emma still climbed onto the podium here to win the Bronze medal it was a battle all day to stay in the race.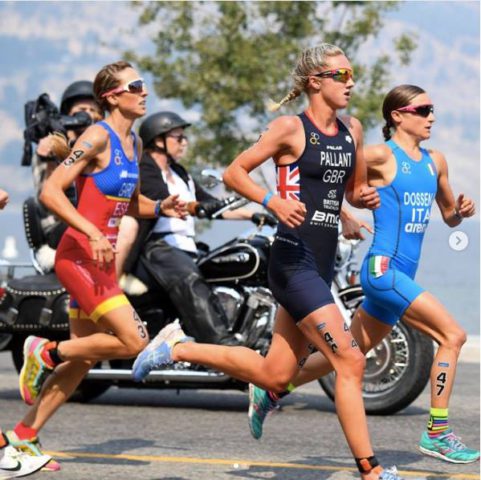 Emma did well to come off the Duathlon and get herself back up for the World Aquathlon Champs and come from behind in the swim to take her first World Title in this event. We were surprised she raced so well and we knew all the hard work she had put in prior to this championship helped her deliver two fantastic results.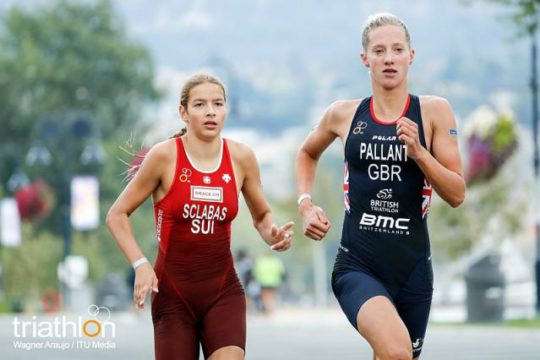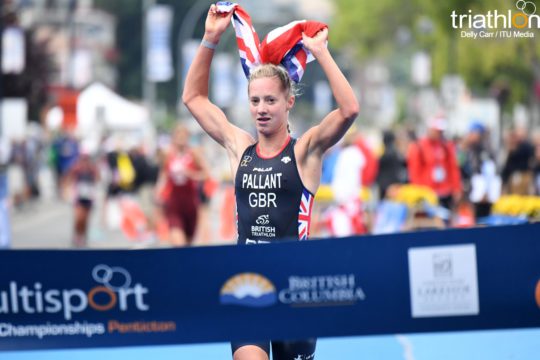 We moved camp from Pentiction and now we were boarding the plane for Chattanooga, we arrived late in the evening after 3 flights, it was a difficult route to fly and this seemed one of the best ways to get there. Once we had settled into our new hotel things still weren't 100% but we stayed calm and focused, we had all been sick, however we were all determined that nothing was going to get in the way of our final preparation and we weren't going to leave any stone unturned and continued our prep as we would normally do.
The week before the race things were starting to come together and myself & Stu could see the pool sessions were going really well. The biking had already gone up another level this year after a big block of work and the run was looking strong as well, this helped erase any doubts in my mind that Emma was ready to race at her best, although Emma was still a bit anxious and wanted to test herself in her final few sessions, its hard not to read into how your body is feeling as you get closer to the race. This is always handy having your coaches by your side in a lead up to a big race because they can keep everything under control and this is when less is more!
Race morning finally arrived and I had a good feeling, I was up before Emma wide awake at 3.30am trying to be as quiet as possible while Emma got her last 1/2 hour of sleep. Once up Emma did the usual race preparation, breakfast, braid hair, put her race kit on, get race nutrition ready, double check kit & make sure the bike ready. Time flew by and before you know it we had Ben and Stefano for the BMC team waiting downstairs in the lobby for us and we were ready to get down to transition.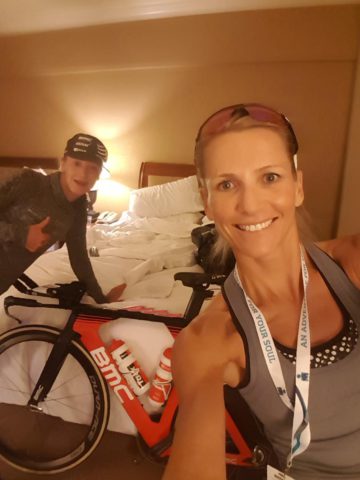 Ben and Stefano from the BMC team are now one of Emma's fantastic sponsors who had flown out to support her and ensure that all her bike and race equipment were ready, Stefano spent a day getting her bike cleaned, doing all the tyres, mechanics etc and Ben was there to drive us around the entire bike course, talk through nutrition and ensure that if we needed anything they are there. This is so valuable to have their expertise and support and we appreciate this so much, we knew the work had been done and we were as ready as we could be. It was race time!!!
Once Emma had racked her bike and sorted out all her kit in transition we found a nice place to sit down and relax before the start. This is where you have to stay calm and not get too nervous, Emma seemed fine in fact she was more relaxed than me, although I wouldn't show it. Now its 45min to go and Emma starts to jog, warm the legs up just enough to allow the blood to get into them, she has one more toilet stop before heading down to the start where she gets into the water and has 10min of steady swimming with some little pick up sprints to fire up the muscles and allow her heart rate to come up. Comes back to transition, stays as warm as possible because its a non-wetsuit swim, takes down a gel and is ready to line up for the introduction. We talked a lot about tactics and how she should position herself in the swim, how she was going to ride and run, nutrition always plays a huge part and she has to get it spot on otherwise disaster can strike like it has before and you dont finish the race. This course was a toughy and if you dont fuel well you were going to pay the price later on in the race.
Once she's on the start line I feel a lot more relaxed, I know there is nothing more I can do, I've said everything I can and probably repeated myself that many times like a broken record and I know Emma is listening because she gives me this look and nods her head 🙂 She is focused for this one, this is the A race of the season, she knows to take on board as much advice as possible.
I waited nervously to hear the gun fire and they were finally away, I could relax just that bit more and tried to get in a good position to see if I can spot Emma swimming. Since I know her stroke so well I can usually spot her a mile away, however it was difficult to see from the bank so I decided not to watch and instead weave through the crowds and get myself in a good position to make sure I give her splits coming out the swim. The women were in their last few hundred, I was ready with my watch and made sure I was well away from anyone else so that Emma could hear me loud and clear. The first bunch of women came out which included Sarah Groff and two others, then there was a gap and there was Daniela Ryf, Annabel Luxford and a few others, then another small gap and some of the main contenders coming out including Hollie Lawrence the defending champ. Hold on a minute Emma is not far behind Hollie in fact she has had a fantastic swim only 50sec behind Ryf's pack and she looked great! I was pumped and called out splits to those packs in front of her and mentioned all the significant girls she had around her. Wow what a swim, the best swim all season, all that hard work in the pool with Stu and practicing starts and swimming on hips had paid off, she was off to a great start.
Onto the bike now and she knew she had to ride hard the first 15km to the first climb and ensure she was in a good position, at this point I can't see anything so I head up to a coffee shop to meet one of our TDC athletes who races tomorrow in the mens AG race, Jamie Chatfield, we ordered a coffee and got the race up online and we also had Ben and Stefano from BMC out on the road texting me splits. I felt excited but couldn't help being nervous, I just want everything to go smoothly, no mechanicals and for Emma's legs to be there on the day. We get the first split and she's riding well she's with Laura Phillips and Heather Wurtle and they are riding well, the big group is up in front still about 1 min up the road but they are holding great pace. The camera's flash to Emma she looks great, aero on her BMC bike and looking strong.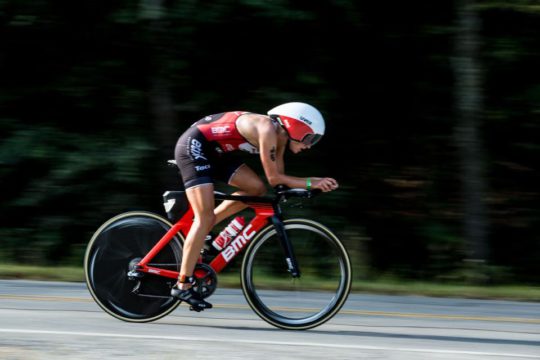 As the race progresses we get splits every 20km or so, therefore there is a lot of waiting around to know if Emma is still with those same girls. We get another split and they are closing on the main group in front, meanwhile Ryf is up front stomping the pedals and getting away, in fact putting time into everyone. Daniela Ryf is so experienced and so strong and she was out to destroy everyone on this bike course, it was showing. In a different frame of mind Emma continues to ride with Laura and Heather and is doing a great job to still be in contention with these two women who have previously put several minutes into Emma over the 70.3 bike legs, not this time Emma's hard bike block is completely paying off today and she is riding her best bike leg of the season. Emma has stayed in touch through the climb and now they are on the decent.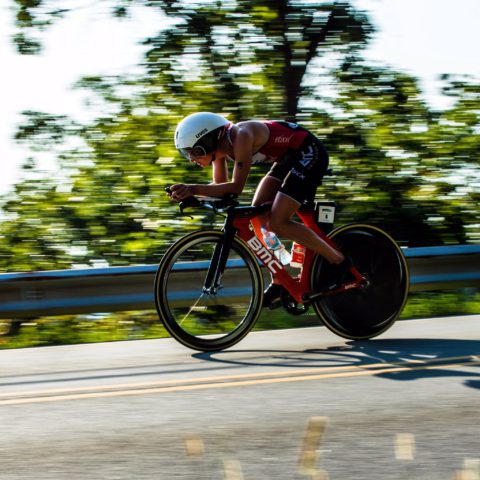 This was where if Emma was going to lose time to anyone it could be here, she's still only a baby to the sport and some of these girls take big risks especially on the descent, if she was still in touch after the descent I knew she was setting herself for the best race of her career. As Jamie and I sat watching I was getting more and more excited to know they are only now a few Km's away from transition and they had just ridden themselves into the main group, only Ryf was ahead, although several minutes up the road. The podium was looking good for Emma, I believed the way she had been training she could run well enough off this hard bike and secure a top 3! I ran across to T2 where I saw Ryf come through then waited for the main girls which thankfully still included Emma, she was there, I had a huge smile on my face, what a swim and what a ride, so proud and now for her best discipline the run. I could see she was happy, just a small smile coming through but with a huge amount of focus and ready to lay down something special on this tough run course.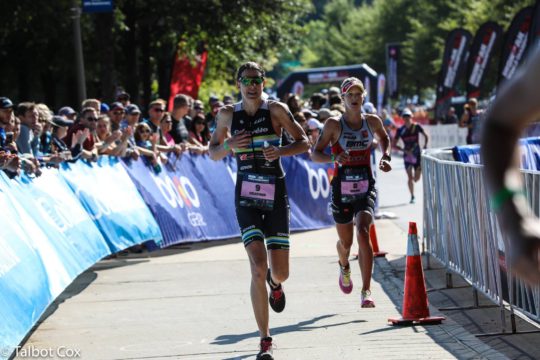 If anyone can run this girl can, I have seen some incredible training sessions Emma had produced on the run before this race and I was confident if she ran up to her best she could ran some time into Ryf and definitely secure a podium. She looked good, I gave Emma the split to Ryf but called out not to go out too hard. A difficult one as Emma is a racer and she races to win, she said after the race she couldn't believe the amount of time Ryf had put into the rest of the field, one strong lady, but she wanted to go after it and see what she could do. Once in full flow up the first hill Emma looked fantastic and had already pulled away from the rest of the field, there was only Ryf in front!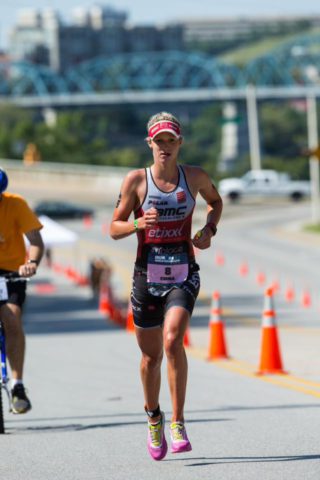 The run was a two lap course and so I made sure I put myself in a position where I could maximise any opportunity to call out splits and see how Emma was looking. The guys from BMC were also out on the run course as well which was great as they were able to give Emma splits over the other side of the course. Stuart was back at home watching it on the TV coverage and calling me on the phone every 5mins as well! 🙂
Emma was running well and holding onto 2nd and looking comfortable at the halfway mark, she had made up some time on Ryf but she was looking strong and still 5 and a half minutes in front and looking like in no danger of fading. I was giving Emma feedback on this and she settled into a good pace on the second half of the run and made sure she was going to hold onto her position. I headed to the finish line after I saw Emma on the last lap and waited there, still a little bit anxious as things have not always gone to plan in the past and the race is never over until you cross the finish line. The announcer mentioned that Ryf was not too far away and before you knew it she was crossing the line, what a great champion, she thoroughly deserved the win and went after it today. Daniela did an interview while we waited for Emma, I was still at this point anxious as you can't see anything and we know Laura Phillips is in 3rd place and very strong athlete. Then Emma starts to approach the finish line in 2nd Place, she had a HUGE smile on her face, what a performance, what a moment. WOW 2nd in the WORLD!!!!!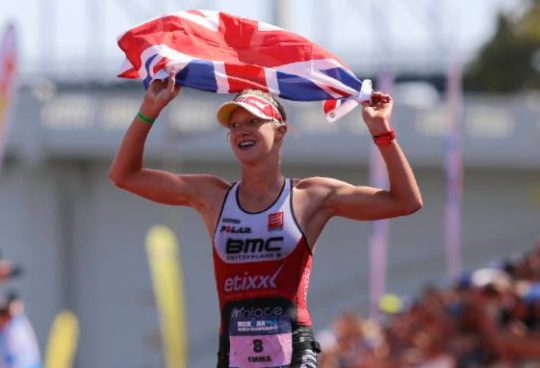 I was so happy, incredibly proud and very emotional I could hardly speak for a moment. I have seen where Emma has come from since she started this sport and then to see her 5 years later finish 2nd at the World Champs had to be one of my proudest coaching moments. We had a moment at the finish where we shed a few tears, it was a performance that we had worked so hard for together as a team, its was great to share this special moment!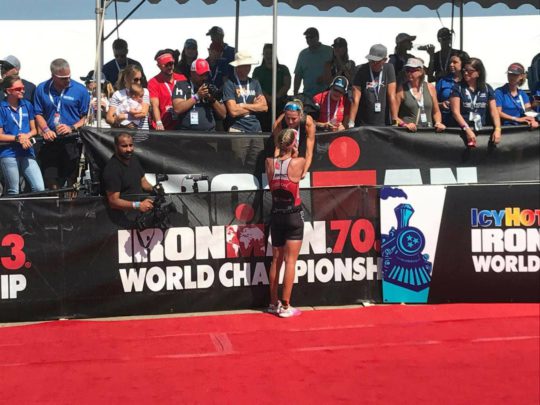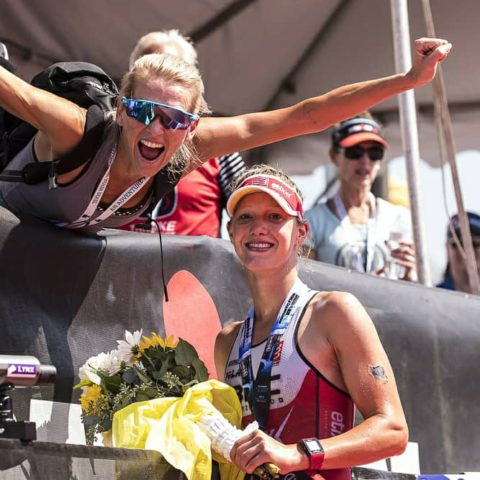 I always believe that you have to celebrate your success along the way, this was certainly something we needed to do, it had been a huge year and few weeks and it was time to relax and reflect on this. We went out for a nice meal and a few drinks which is pretty standard for us after a big race.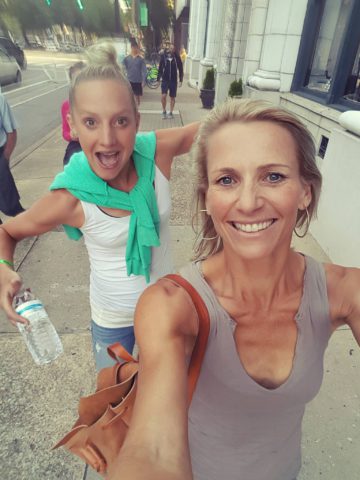 Since then Emma raced in the Super League, totally unprepared after her prep for the 70.3 Worlds only two weeks previously, however did really well and definitely enjoyed the experience. Thank you to Darren wheeler for the picture (That camera man)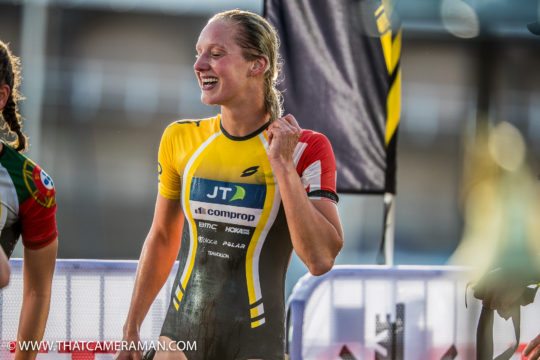 She has also recently run a PB over 10miles clocking 54.53 so her run fitness is looking great as we move towards the last few races of the season. Emma has been invited to race at the Island House Triathlon (Pain in Paradise) we are really thankful for this opportunity and looking forward to that one in a month's time, then off to Bahrain 70.3 for the last race of the season, we have quiet a few TDC athletes racing so excited for that one as well.
Reflecting on this Season Emma has gone from strength to strength not only physically but mentally as well, She has a huge work ethic and loves training, she can't get enough which can only mean one thing. We talked a lot about going across to Ironman, this is something that excites Emma and although there is the nutrition side of things that need work, it would be a great experiment next season and see how Emma finds the distance. After Watching Kona this year and seeing fellow Brit Lucy Charles do incredible things, Emma is inspired to aim for Kona next season, and can't wait to trial the distance, watch this space! 🙂
A huge thank you to all her amazing supporters and sponsors BMC & Hokaoneone!
Written by
Michelle Dillon