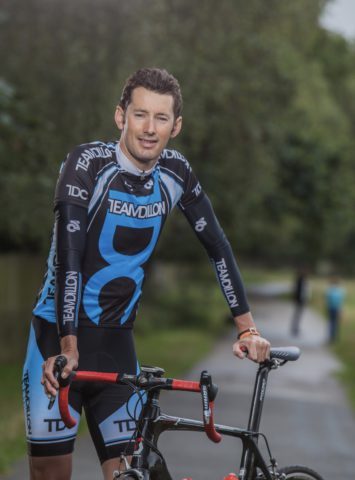 I was out for a steady ride with my friend mark on Tuesday morning last week and as we descended down Broomfield hill when a Deer appeared on the road in front of us from nowhere. My friend managed to avoid it, however I wasn't as lucky and found myself crashing into the side of the Deer, almost on top of it, then coming down hard to land on a curb. It all happened so quickly and didn't have time to swerve or brake, and at first I even though I was ok. I tried to get up but had some really bad pain in my hip, I also head butted the dear so my nose was bleeding, I couldn't really get up so my friend called the ambulance and I tried to stay in one position where I was for over an hour while we waited.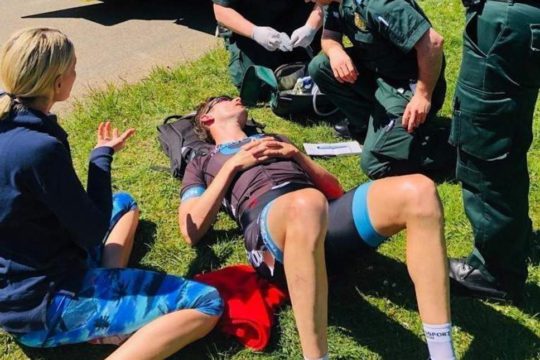 We called my wife Michelle and she drove out to the park and arrived before the ambulance, we tried to get me in the car so that we could get to the hospital ASAP but the pain was so bad we knew this was something bit more serious. So we waited and finally the ambulance arrived, they gave me some pain relief and examined me. Once at the hospital I had an x-ray and then an MRI to confirm that I had shattered my pelvis. Certainly not the news I wanted to hear!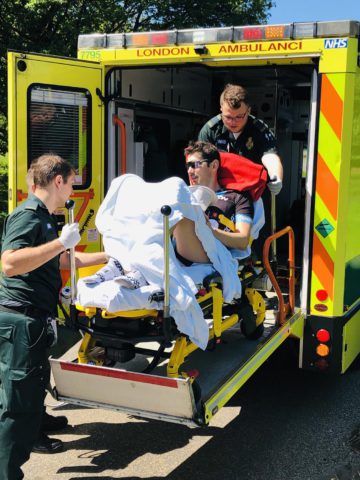 6 weeks on the couch is a long time for an athlete that has never broken a large bone before, ive had some stress fractures in the past but never been told not to weight bear through a bone for a long period of time.  To be honest I'm very lucky as the accident could have been a lot worse, paralysed or dead, someone was on my side that day that's for sure.
When I was in hospital I was told I have a couple of options, go for surgery and be pinned or let it heal naturally, basically the socket has been broken into pieces which are all in place and will heal in 6 weeks, its like a ball smashes a window and nothing moves and your left with loads of cracks which will eventually heal.
Before I decided whether to go ahead with the operation I seeked advice from a couple of friends of mine, Jonathan bell from Wimbledon park clinics a specialist knee surgeon and Tony Doyle (MBE) ] World track cycling champion. Tony has had this problem before after crashing in the Madison cycling event on the track, one thing he did tell me to do is get on the turbo asap and turn the legs around which I thought was a great idea as this would speed up the recovery process. I did ask my surgeon and he gave me a very funny look so must have been a different kind of break, considering I can't walk right now that explains the look. Tony also said regular massage would be beneficial which I will defiantly be starting from next week.
During my stay in hospital I got to meet a lot of old people with broken pelvis and similar injuries to me. So to kill time I started practicing some new card tricks on some of the other patients and kept everyone entertained including the nurses.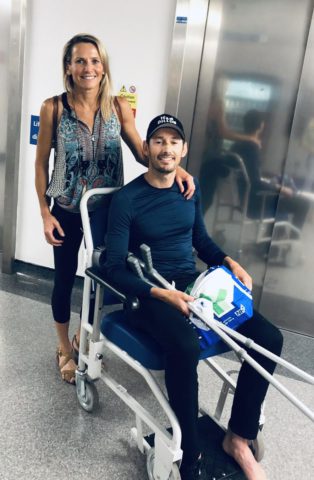 I was contacted by some major papers including the telegraph to find out the story on what had happened because it quite rare to be taken out by a deer in Richmond park.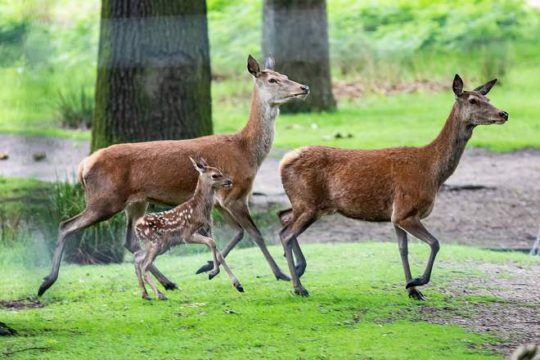 Once the article went up I received a lot of lovely messages which I really appreciated, however a charity decided to capitalise on the situation and use me to look like a bad example for cyclist and vent their anger towards all cyclist using Richmond Park. This particular post was all over social media and there were some hurtful comments in there and personal attacks which can really make you feel like crap when your laying in a hospital bed with a broken pelvis. However I tried not to get too wrapped up in it all because I wanted to focus my energy on getting better quickly, now Im back home I can focus on the more important things and Im hoping to be back training as soon as I can. Of course I have a lot of rehabilitation ahead of me and Im sure I will learn a lot from this experience that I can only pass onto others especially my athletes that I coach, you always learn the most from your own experiences.
Onwards and upwards, if your riding your bike around the park or even just on the roads, please be careful, these accidents can happen in one split moment and change things.  Stay safe everyone!
Stuart